So the day is finally here. I got the privilege to hear about all the details last week and have been hard pressed to keep quiet. I really think Sony is going to change things up quite a bit with this announcement. The F5, the F55 and upgrades to FS700 and the F65. According to Sony 4K is here to stay and I am becoming a believer.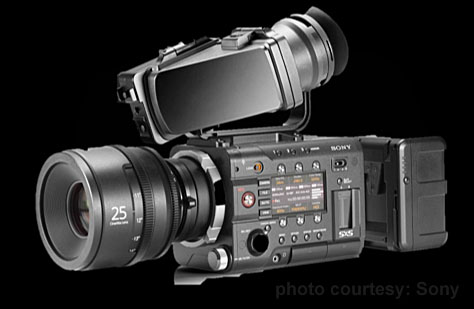 I don't even know where to start with this to be honest, there is so much. I guess I can start with the new Codec known as XAVC which is a new 10bit 4k codec. It's a intra frame and Long GOP codec allowing for both 4K and 1080/50p files as well as "regular" HD. Then…. I think what most people anticipated for #TheNewF was an upgrade to the F3. Well there is now the Sony F5 and F55. Both cameras have an S35mm 4K CMOS sensor with PL mount (with PL/FZ mount adapter). Both cameras are built on a modular design to make everything as streamlined as possible. There is even a new battery system developed by Sony that fits this modular design. Even more, there is new recording media released that has a docking slot that fits into the modular design of both the F5 and F55, all without cables!! On top of this, I know it never ends, there are new professional view finder options as well as a 30′ LCD 4K monitor. Ohhhh I almost forgot there is the 6 lenses, T2.0, metal housing with a 240 degree throw!
Ok so lets try and break this down just a little.
The F5 and F55 are both 4K sensor cameras. 14 stops of DR! Slog2 gamma and hypergamma modes. Both deliver in a multi codec environment with both the established Mpeg2/HD422/50mbit as well as the new XAVC directly to the SxS cards. The F5 does 120fps XAVC HD and the F55 180fps XAVC HD both to internal SxS Pro+. ONLY THE F55 will record 4K to the internal cards, using the new XAVC codec, but it will also store MPEG2 HD422 files, perfect for offline editing. The F5 will need the external 4K recorder to deliver 4k images.
The F55 will also shoot 240fps 2K RAW to the new external recorder, AXS-R5. This new recorder (fitting both F5 and F55) will simply snap to the back of the camera like a battery and the attachment is cable free. The AXS-R5 is a RAW 2K and 4K recorder (16bit linear) storing up to 60p in 4K and 240 in 2K. It uses a 2,4Gbits new media card with capacities up to 512GB. The F55 also has a global shutter and a wider color gamut than the F5 and more like the F65.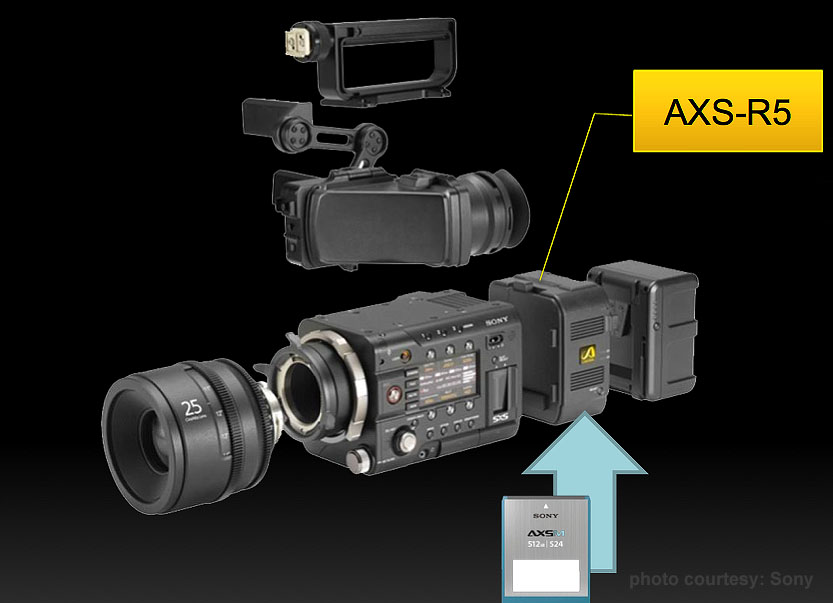 ;
One thing I've been waiting for since we got our F3 is a real HD viewfinder. Well now there are 2 new viewfinders and one 7 inch onboard monitor.
The top of the line VF is a 0.7" 1280 x 720 OLED DVF-EL100 which will work on F5/F55/F65 and is said to deliver an outstanding clarity.
The next choice is a DVF-L350, a 960 x 540 pixel LCD VF with a flip-up display.
And to finish off is a high brightness (1000cd/m2) 7" FullHD, LCD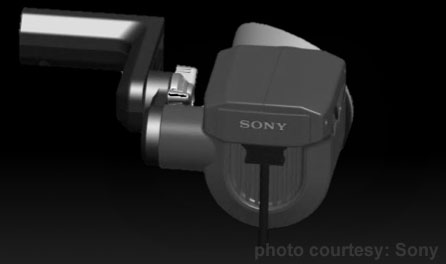 ;
The Lenses. I am personally really excited about this. Sony has announced 6 PL mount prime lenses T2.0 all metal housing. This could of course be re-housed still lenses, but that doesn't mean its bad optics; other PL mount lenses are known to be just that. Exciting indeed. No price point yet that I know of.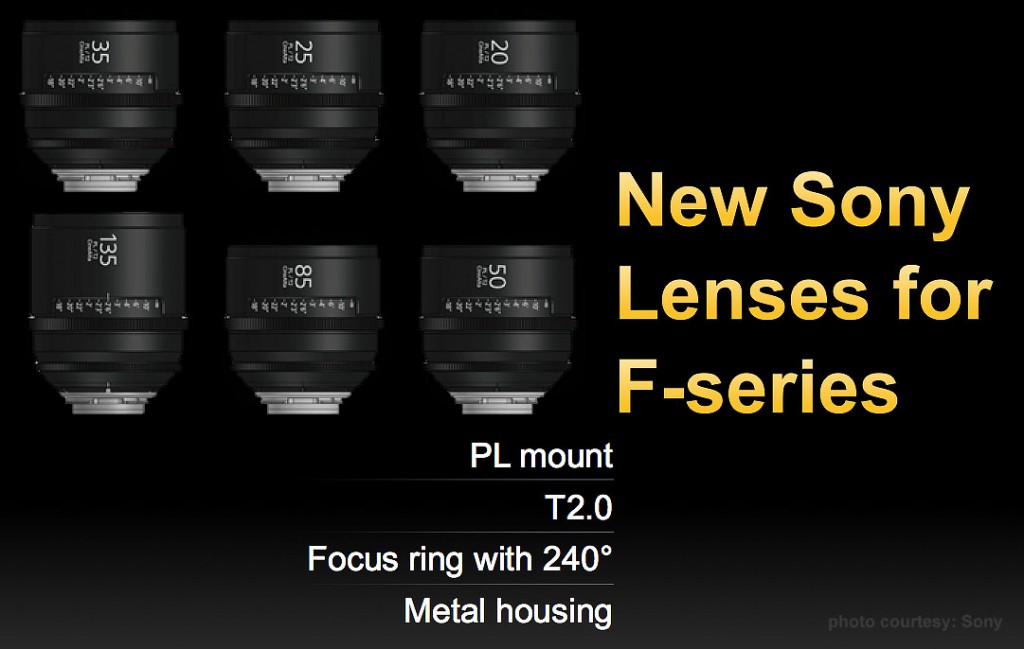 TheNewF meant more than the release of the F5 and F55. It also meant an upgrade/advancement of the FS700 and the all mighty F65.
The F65 will get a v3.0 upgrade with "Advanced de-mosaicing at 6K or 8K even with RAW files captured to-date" and "120P 8K capture, totally unique feature"
The FS700 will among other things finally get 4K RAW output to the AXS-R5.
I think the announcement of the new XAVC codec is really exciting. It is a 8/10bit codec allowing for intra/long GOP coding as well as 4K, 1080/50p as well as 1080/25p. It is said to wedge in between the top of the line HDCAM SR and the existing HD422 50Mbits format. I can't wait to see what it really looks like.
I also really like the modular design of everything. Batteries, recorders and camera is now one unit without any cables. The rigs nowadays are big and cumbersome and cables everywhere. Can the integrated electronics save a few cables that is great news I think. The new batteries for the Fseries are promising a longer running time and a 2x high speed charging.
I am going to the US to cover the election on thursday but the thought crossed my mind to cancel and go to the UK Sony Roadshow instead. Will try my best to get a look at these cameras as soon as I can.
There was no talk to pricing last week, but my guess is the F5 will last slightly higher than the F3 at $16k, which will still be available, and the F55 perhaps 20K above the F5 to protect the 4K internal recording, global shutter and higher frame rates. Products are available in end of January.
Lots of more information will of course come out in the next few weeks and it will be interesting to see the first images from these cameras, since after all that is what we use them for….
Wow how long is my Christmas list now…
;
Disclaimer: No one asked me to write this post, no one has payed to write anything in regards to this. I do not work for Sony. I was privy to information about the release early as I am sure lots of other working professionals with contacts were. Images in the post are from a Sony release