Yesterday was a really good example of what you can achieve when you PICK YOUR LOCATION and USE YOUR IMAGINATION.  We were doing press with danish Director Susanne Bier and Actor Pierce Brosnan.  All press was to be gathered in the same room, TV and print divided up into 4 areas.  We did not have access to a lot of light and grip and very little time to set up.  This also goes back to the post yesterday with the amount of gear I could carry along. Had we been a crew of 4 things would have looked differently.  Now you are given and location and have to find the best way possible to deal with that.
First thing's first; GET THERE early.  Even if you're not allowed to setup you can scout and choose the best setup location.
With the amount of time to setup and only using 2 lights and no grip this was an easy choice for me.  Big window light! I setup the camera 12 inches away from a huge window with white drapes. The big 50inch plasma on the right served as Neg fill giving some contrast to the face.  On the other side I places a big ad board 2,5m x 2m as a big bounce.  On that side I also placed the key, a fluorescent light on top of which I added a Lastolite Trigrip Difflector.  This is a great piece of kit as it serves as both a bounce and a diffusor. The Trigrip is taped with electrical tape to the fluo-light!
I also added the mildest touch of a backlight hanging from the TV, battery operated light.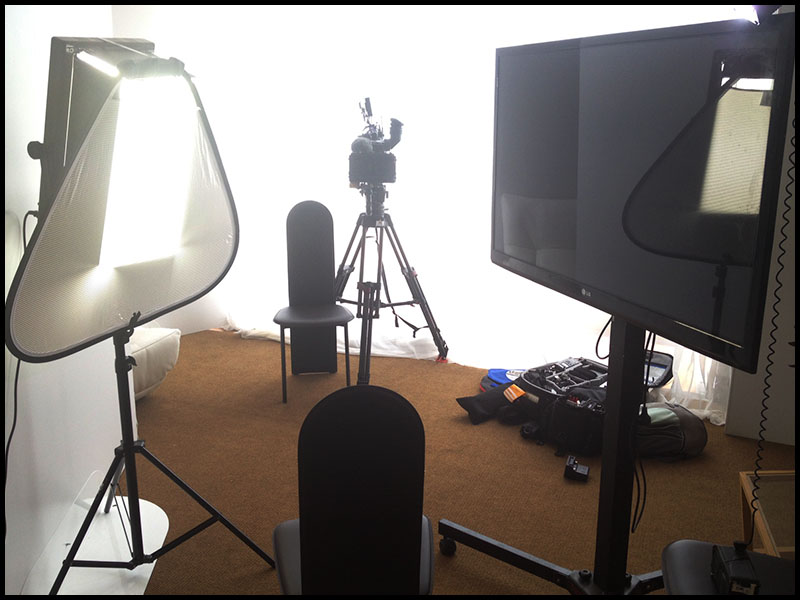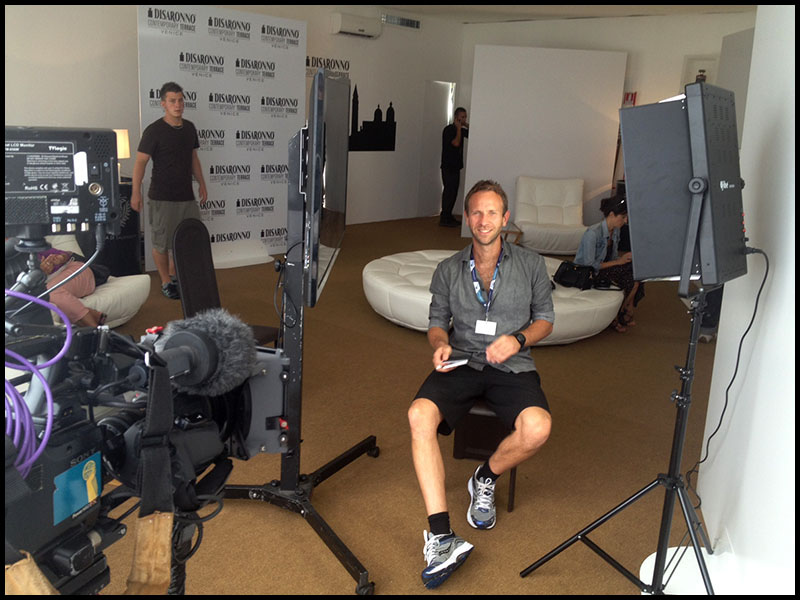 Easy as pie. A really quick setup, less than 10 min and I think the final result turned out pretty good.  It was funny when the publicist came and saw the setup, with a light on a tv and electrical tape holding a diffusor in place.  However I was glad to show them the shot in the monitor and actually got a smile back.
p.s.   The shot you see of Pierce Brosnan is obviously the opposite of the setup in the pictures above.  That is the other great thing with this setup, is that in less than 3 min I hade reversed the setup to make it work for 2 different interviews. 🙂