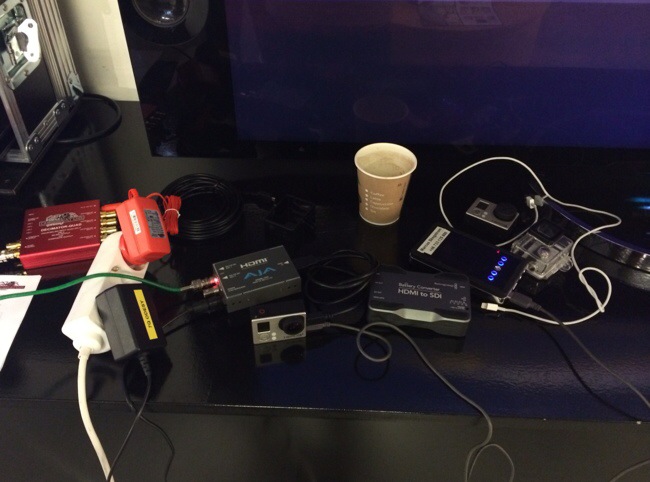 So this finally got a solution. After a looooot of trial and error, ordering new/different HDMI-SDI converters, quad splits etc etc, AJA was the solution.
I am trying to monitor 3 GoPro cameras to make sure they are recording inside the main vehicle as we are riding in the follow car. My thought was simple enough, run the GoPro signal with on-screen display (OSD) into an HDMI-SDI converter, connect to Quad split and transmit signal to follow car. In reality is proved not so easy.
The Atomos Connect didn't work at all, would not convert 1080/25p to SDI.
The BMD battery converter converted the signal to SDI but somehow corrupted it. It showed up fine on Sony OLED monitor but would NOT monitor on Marshall 5 inch or our Odyssey 7q (our quad solution)
Ordered the Decimator Quad split box. Is converted the signal in 4:3 and only put out a SD/SDI and I needed to have and HD out.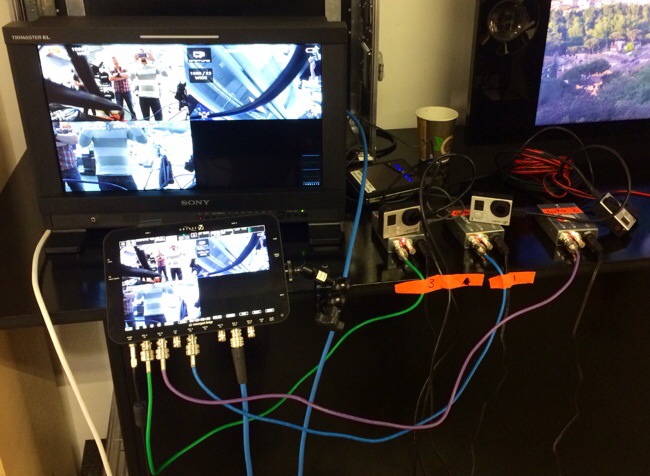 So it was as easy as AJA. It converted the HDMI to SDI and showed on the Sony and the quad mode in the Odyssey 7q.
The reason I tried Atomos and Black Magic Design first was that they had a built in battery, which the AJA does not.
Also I need to give lots of credit to Scandinavian Photo I Malmo which has has been so helpful in ordering gear and helping out.
Here is first try on a finished rig. Missing some wiring and stuff but I now see the light at the end of the tunnel. 🙂