A few nights ago, the Behind the Scenes documentary about Eurovison 2013 aired on Swedish Television SVT 1. In case you missed it it's available on SVT play until 27 Jan 2o14.  It was shot with 1 Sony PDW700 Xdcam camera and a GoPro Hero 3 Black edition for the OB truck shots and time lapses. There were No retakes, we shot everything as it happened on location, when it happened. Due to all the different lighting conditions there was Lots of in camera meny painting and all location footage was natural light or lit with only a top camera light, sometimes diffused. Not pretty but all there was time for in this very run n gun situation.
We were often doing interviews or talking to people walking backwards through hallways.   90% of the footage is hand held.  This is probably one of the most intense fast moving project I've shot to date.  Constantly new things happening, we wanted to be at several places at once so running was a common occurrence .  Good footware and heavy duty socks is a good bet bet for these sort of shoots.  Also compression socks is a good tip for long days on hard concrete floorings.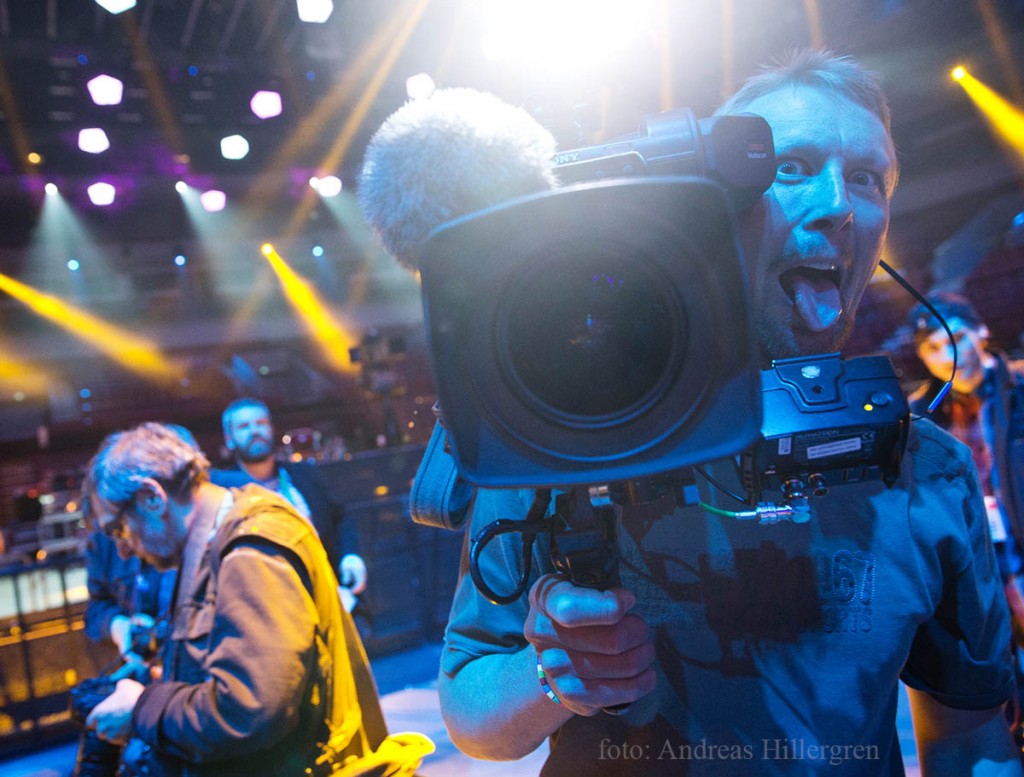 Challanges we ran into:  Litte light, or actually very little light.  We were often wide open, F1,9, no shutter and even 6db gain at times.  This was one of the reasons I chose a 2/3″ sensor and not a super 35mm sensor camera.  Zoom lenses with a PL mount are T2.9 at best and are also limited to the 2,5 times zoom range, if you want to be hand held for longer periods of time.  Now I opted for the Canon HJ14 (14 times zoom) and an extra stop of light. Best choice I made on this project.  Since things only happened once, and all of a sudden 20m (60ft) away I desperately needed a good zoom range.  Also the XDCam disc meant no media management during the shoot days which often ended at 2-3am.  Just pop a new one in and ready to go again.  We stacked roughly 55 discs during the 12 days of shooting, and another 8 for the post interviews.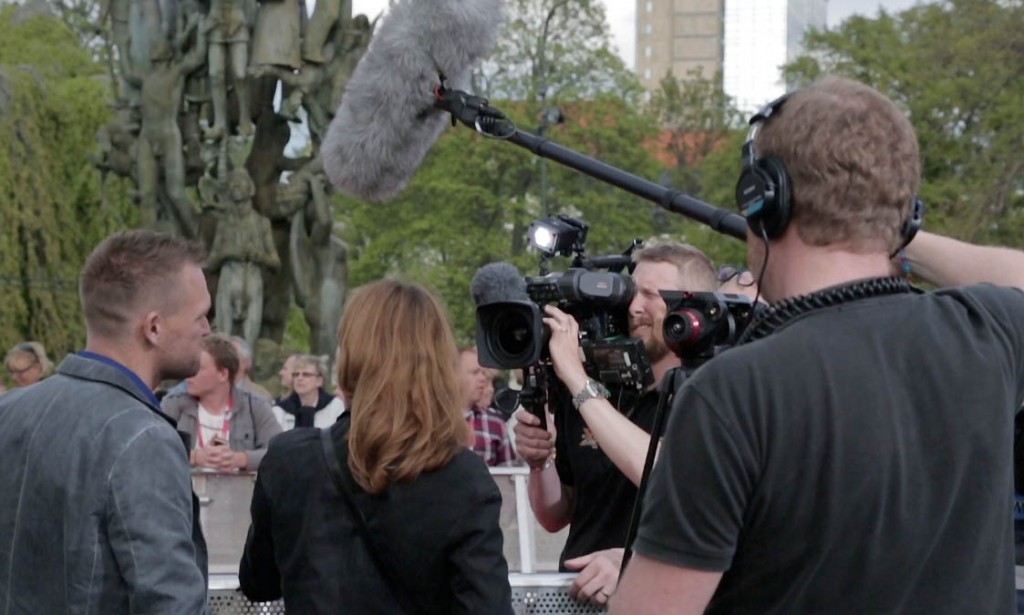 I've said it before and I'll say it again. The XDcam 700/800 is a fantastic doc camera.  Sits great on the shoulder, even when heavily loaded and the controls are right were they need to be for quick access. The camera was fitted with zoom handle pistol grip, on board monitor, 2 wireless receivers and a zylight top light. The camera mic was a Sony stereo mic laying a constant stereo track on ch 3/4.  1/2  was a feed from the mixer bag.
Sound:  It was loud.  Everywhere.  We also were limited to 4 wireless units.  I asked for 6 freq (4 to the sound bag and stereo link to cam) but got a no no no. At first we got word of no wireless at all. Even though we were working for SVT (the host) our BTS show was secondary to the LIVE show reaching 200 million viewers. We had to fight hard to get clearance for the 4 freq we ended up with.  Sennheiser had blocked ALL wireless freq in the entire arena other than the ones we were allowed to use.  No other media were allowed to use wireless.  Looking back at the pace of shooting and running around, we never would have got the footage we got, with cables between me and my sound guy.
There was also very little time to have people fitted with transmitters.  People were always moving and stressed and even 1 min to fit a transmitter was to much a lot of times.  Calle had to work hard reaching with his boom.
The days were long and I estimate I'd have the rig on my shoulder roughly 10 hrs a day, which I payed for in sweat and pain killers… 😉
One thing with a project like this is all the footage that has to be cut and left out.  All the interviews, people and happenings which simply don't fit into the 58 min time slot we were given. I don't envy the hard decisions our Producer Svante Kettner had to make in order to not make this a 4,5hr affair…
I could write a book on this shoot and perhaps one day…. 🙂
Anywhooooo.
Here is a link to the show:  Enjoy!!
http://www.svtplay.se/video/1688750/bakom-kulisserna-pa-eurovision-song-contest