Its not my first choice, but when it pays and its a loyal client you go along. The sit-down interview, and this time we are talking about the quick setup, no softboxes, no flags, dimmers, no fancy. But you still want the interview to look as good as possible. In my opinion background is key. If you only have time to set a couple of lights, pick a background that doesn't need to be lit.
In this example we entered an apartment, a fairly dark apartment with not a lot of lights. Walls were pretty thin with exciting backgrounds. The living room was big but dark and sterile. So I choose the kitchen, a very small kitchen where we barely fit, but the background is the nicest I can find in the apartment. Out of respect I didn't run around this person's apartment taking still pictures so you'll have to take my word for it. 🙂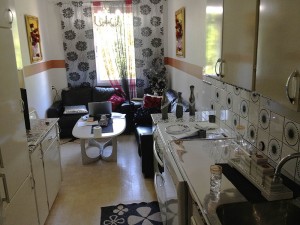 This interview setup is nothing I'll put on my reel but when you need a talking head shot and time and space is a luxury this was the best option. The clipping in the window looks worse on the still than it really was but there is some and I'll live with it. Why I chose the window as a background? There was no time to light any other background in the apartment and Not lighting the background would have left it dead and dark… Also the curtains in the back worked as a backdrop. My first thought was to take a bead board (or styrofoam board) cut it in half and bounce light into it. But time did not allow the rig.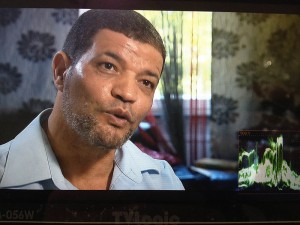 ;
The worst part of these run 'n gun setups is spending the next 2 days thinking how I could have made it better, look a little cleaner, changed this and tweaked that… 🙂
One more example. A hotel room in a foreign land. Limited light kit and again, space is really tight. Grab a towel from the bathroom, gaffer tape it to the wall. Hit a 300w into it, and set one quick backligt. Choose your background and setup something of color to break the background perhaps. Done. A setup in less than 5 minutes.