So we've had the Pix240 for a few months now and I thought I'd post a few thoughts on it.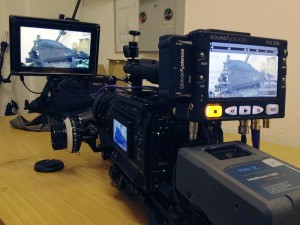 As we all know cameras like the Sony F3 have amazing sensors and output a stunning picture but the codec written to the internal media is less desirable for high end work. Enter an external recorder. There are many on the market like the Aja KiProMini, Atomos Ninja, Convergent Design Gemini and a few others.
They all have some features that set them apart but all of them have one thing in common, taking the great picture that leaves the sensor and capturing it to a better/higher quality format than what's being recorded in the camera.
The Pix240 is made by Sound devices, most well know perhaps for their top of the line audio gear. Well they've moved on to video as well, a very well executed move in my opinion. This Pix records in industry standard Apple ProRes or Avid DNxHD. Input/output options are a SDI/HDSDI/HDMI as well as Analog XLR and AES3 digital audio. Timecode and Genlock are also available. On the side there is also a headphone jack with the option of choosing which channels to monitor.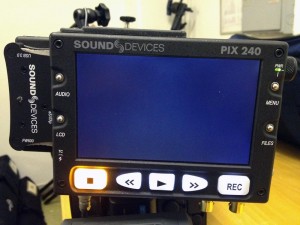 One of the first things you think of is the big display on the front. To be honest it is not a very good display to judge either focus or color but it still serves an important purpose. To have the full on-screen-display (OSD) of the User Interface (UI) is simply outstanding. To see able to see all the audio channels, codec, frame rate, disk space, recording, etc is really reassuring in a stressful situation. The recorder triggers to start recording with the TC in the HD-SDI stream or you can simply hit REC.
Also being able to scroll through your clip list and quickly review a take is very handy. Of course you could watch it on board monitor (which you'll still need to see focus and color) but having the display in the unit makes it easier. You can quickly toggle the OSD on and off.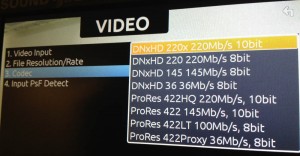 This is really well built recorder made in a metal/carbon fiber chassis.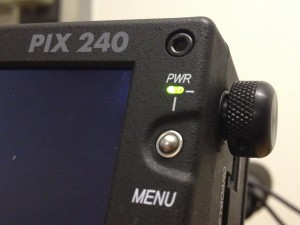 The buttons on the front are all small and recessed in the frame but easy to operate. On the side there is a push enabled scroll wheel which controls the meny, again, very easy to use. The UI and the meny system in divided up into 7 categories and with the display and all many options in plain text, you can't go wrong in your setup .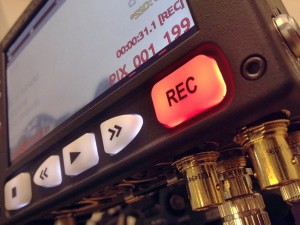 The bigger buttons on the front are lit up and you have the option of choosing how brightly the'll shine. You can easily see what button is active, even in full daylight. Great!
All data is written to the on board Compact Flash card or an SSD drive. The option of using an SSD drive directly in the unit is one aspects I like most. We bought a bunch of SSD drives and labeled them up. 120GB a piece gives us roughly 90 min of footage in ProRes HQ /25p. SSD are a lot cheaper than CF cards and also really fast to offload.
Built into the SSD "sled" is both USB3 and FW800 which helps if you need to offload in the field. We actually bought an extra just to use as an offload dock.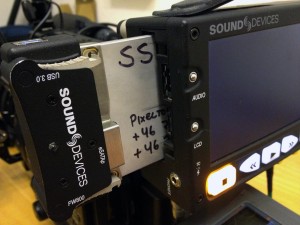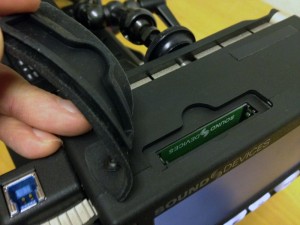 The Pix records in a variety of resolutions and bit rates and wraps the files as .MOV in either Apple ProRes or DNxHD depending on your editing platform. It will also Up/Down/Cross convert your video to suit your needs, also very handy.
Underneath and on the side of the unit are all the I/O ports. Easy access and pretty self explanatory :=)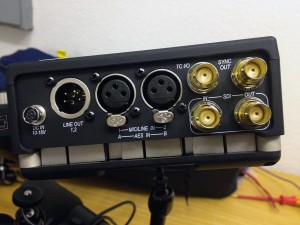 We power our both camera/on-board monitor and Pix240 off a single big brick V-lock battery which works great. See our V-lock plate We had a special cable made to pull power for the pix from the remote port on the camera but this overloaded the system and shut everything down. You can also power the pix through the Sony battery plates on the back of the unit.
One of the most frequent questions I get is if the unit is too big? It is bigger and a little heavier than other recorders but I don't think it's a problem. I think the display and the SSD option outweigh everything else.

So. Overall I am very happy with our choice. I've used it on both small one interview shoots, as well as multi day drama shoots and it suits my needs perfectly. It now sits on our XDCam 700 or F3 for basically all our shoots.
If ProRes or DNxHD is your choice of media you should take a serious look at this recorder before deciding what to buy.
Next step would be the Gemini for 444… 😉
Disclaimer: I have gotten no compensation from either above mentioned companies to write this post. We payed full retail price for our Pix240. I have used both the AjaKiPro mini as well as the Pix240 in production.