Last week I shot a web series of quick kitchen tips/recipes for a production company in Lund who's end client is a big food chain in Sweden.  I thought I'd share a few pictures and thoughts on the setup to explain how a situation that might not be ideal but will still produce a nice end product. During the course of 2 days we shot 14 tips and 4 promos.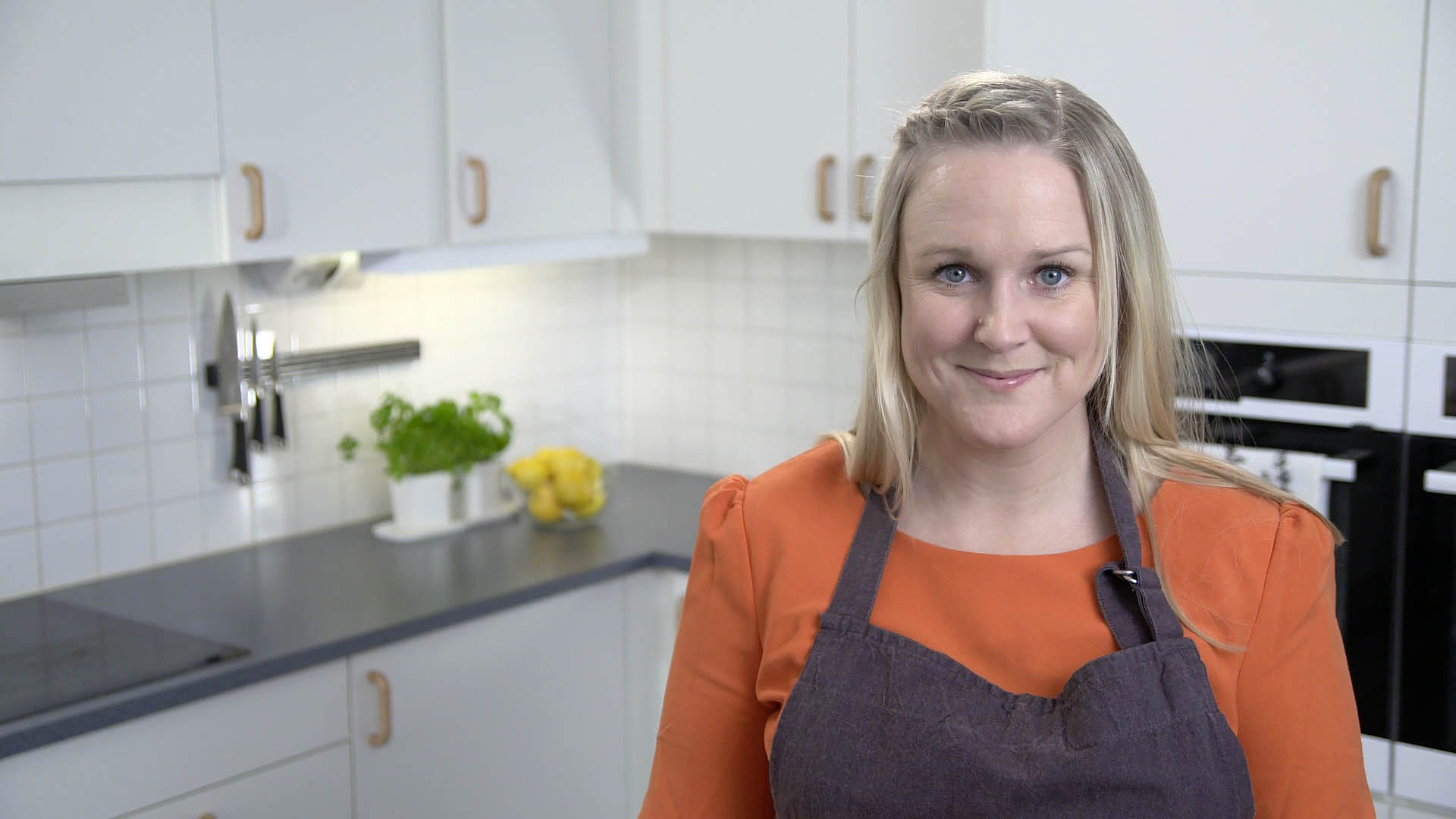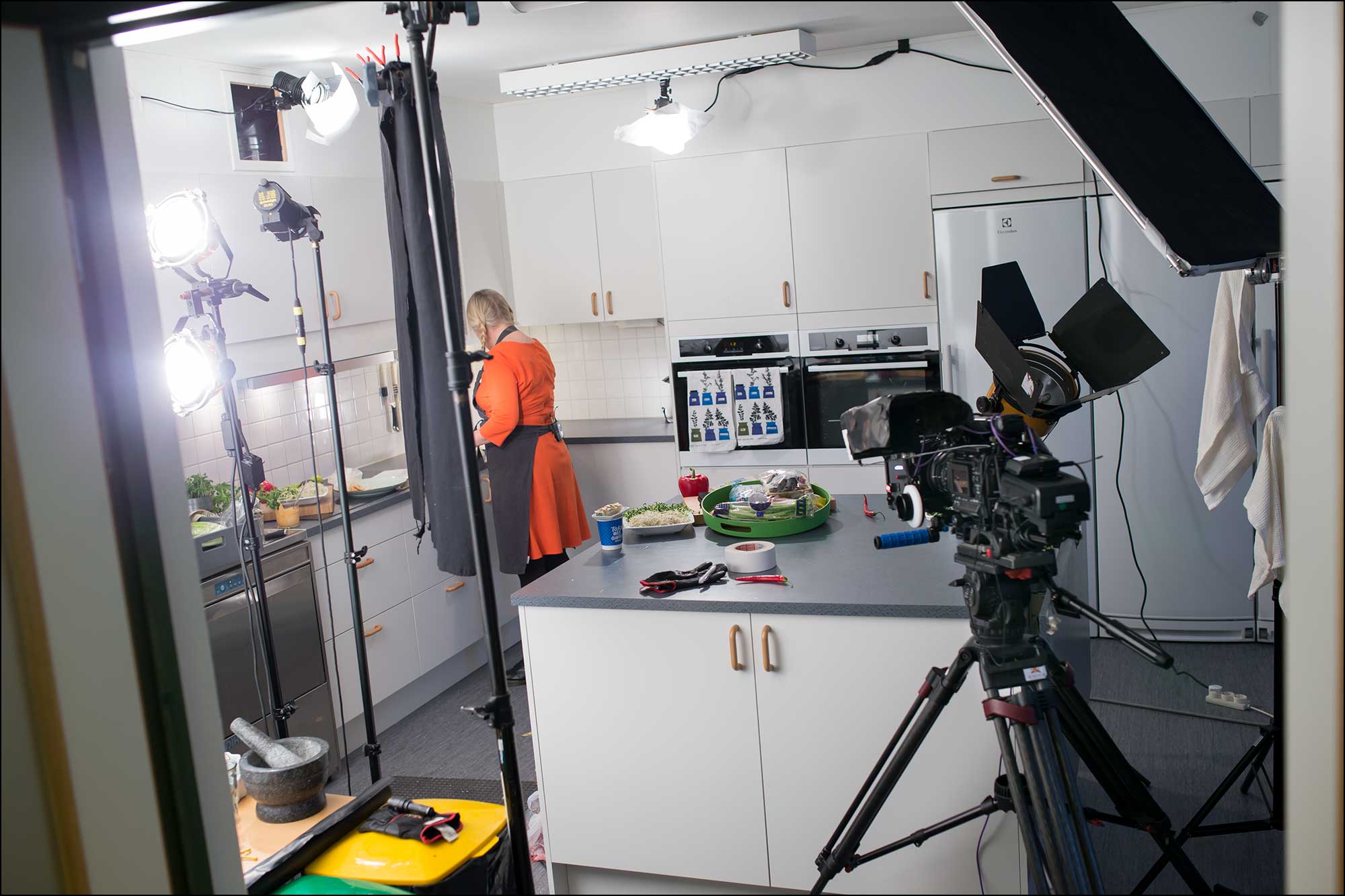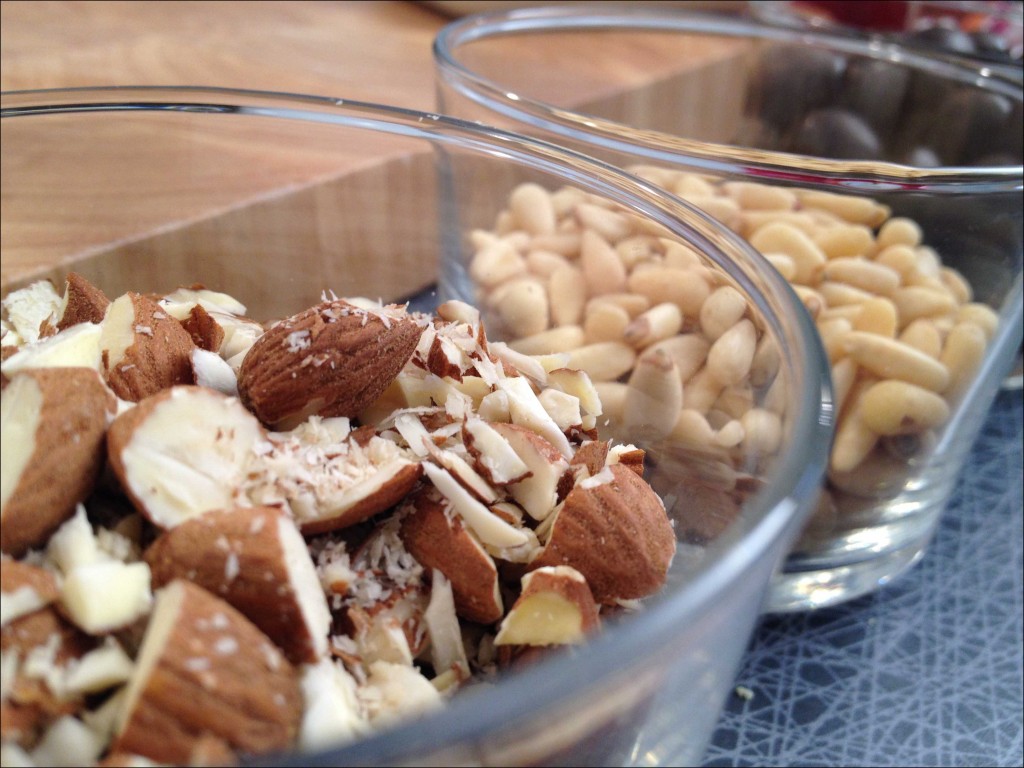 I came in late into the project and was not part of any pre production.  We were assigned a test kitchen belonging to the client.  It was a fairly small kitchen with a big island in the middle of the room.  Preferably we would have liked to be working in a bigger space with the talent farther from the background, to get some depth, but this was not an option since the island was not movable.  I even asked to have it un-screwed from the floor and removed but this was not possible. Another issue with the island was that it was a little low, height wise. In a few shots we ended up seeing a little bit of floor in the background, out of focus but still.
Also, times and budgets being what they are, this was a solo tech gig. Yes, sound, lighting, camera and focus, all mine. 🙂 I could have said no but I really wanted to work with this client and this was something I knew I could handle alone and have a lot of fun doing it. Working in a small crew really has its rewards as well as its drawbacks.
This project was shot on the Sony F3, with a Red 17-50/2,8 zoom and a 5″ Tv-logic monitor for a "view finder".  We wanted to achieve as much depth as possible so I lit the set to shoot wide open at f2.8 (light to f8 with 3 stop ND on camera). Everything was shot handheld and lens was set to 32mm -35mm except for the close ups at 50mm.  The Red zooms is great in that it has a really nice near focus range allowing to get close in on an object.  Since there was to be no grading I painted in-camera for a finished look or as close I could get.  We decided on a flat, low con, clean look.    Everything was shot in 35Mbit XDCam EX codec.  There was a quick turn around on this project and all "tips" were delivered just a few days after shooting.
Sound was a straight forward setup with a DPA 4071 lav, carefully hidden under her clothing. The downside of doing sound by your self is not being able to change levels during a take since your busy pulling focus.
All in all it was a  pretty simple setup. 7 lights total.
1 key light, which consisted of a chimera frame with an open face 2K into it.  I didn't want the harder light of the shiny bounce surface so I added a diffusion on the bounce side.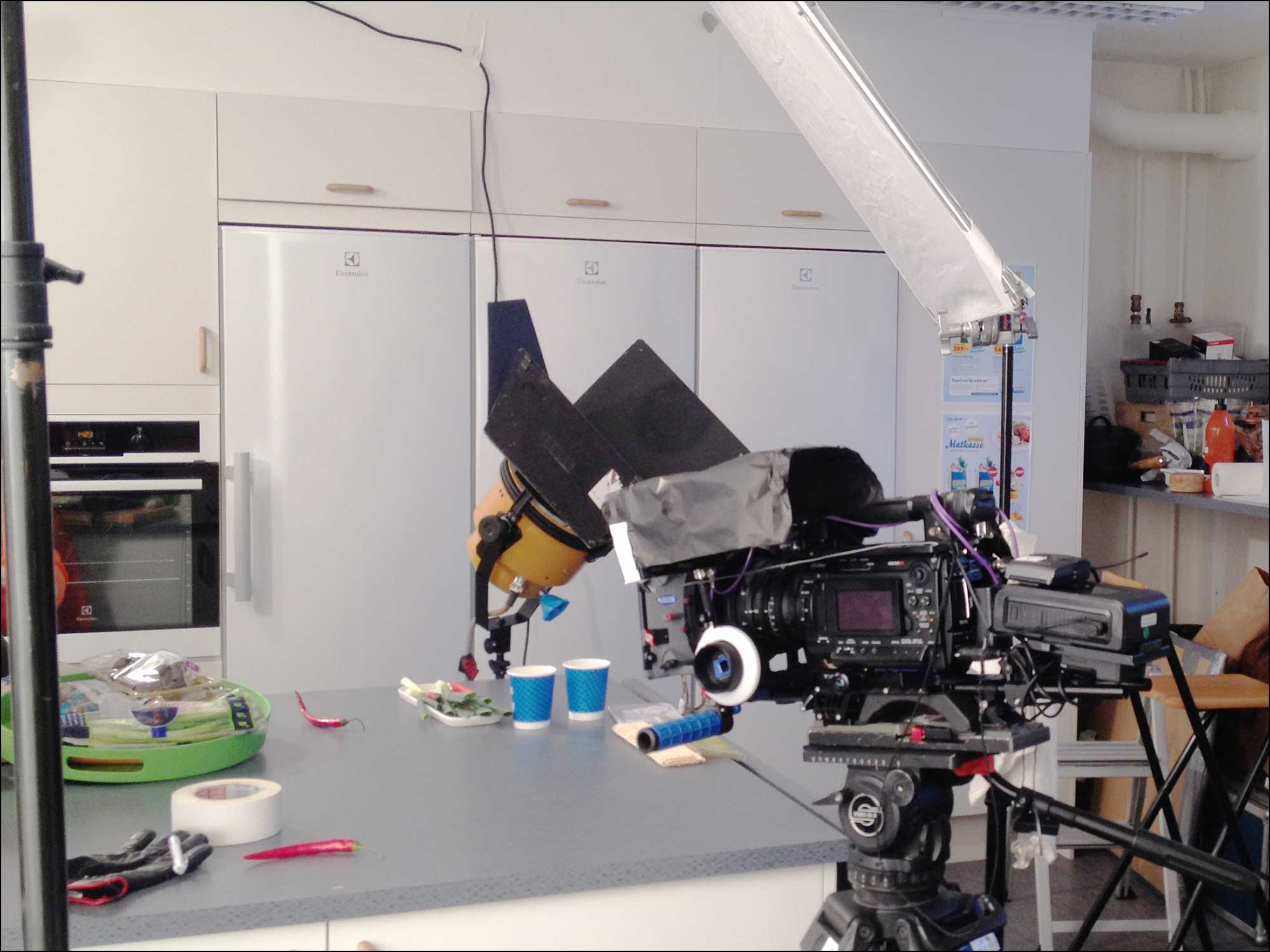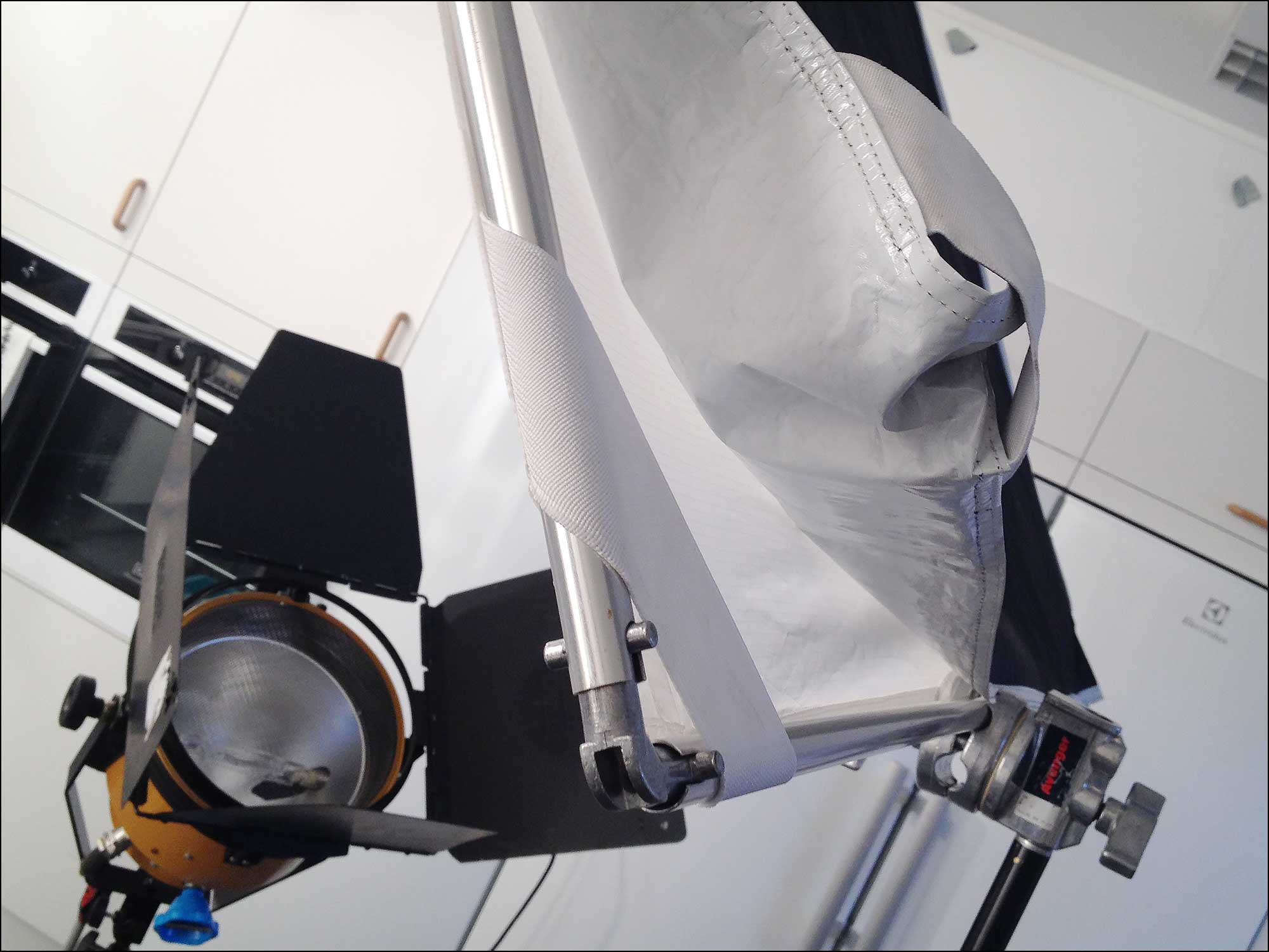 For fill I put up 2 x 800w open face lights bouncing into the white walls left of the kitchen island.  This filled the background nicely and gave some fill for our talent.  I added a neg fill on the left which gave our talent more contrast on her left side.  On this picture you also see the 150W Dedo which acted as a spot light for some of the background items.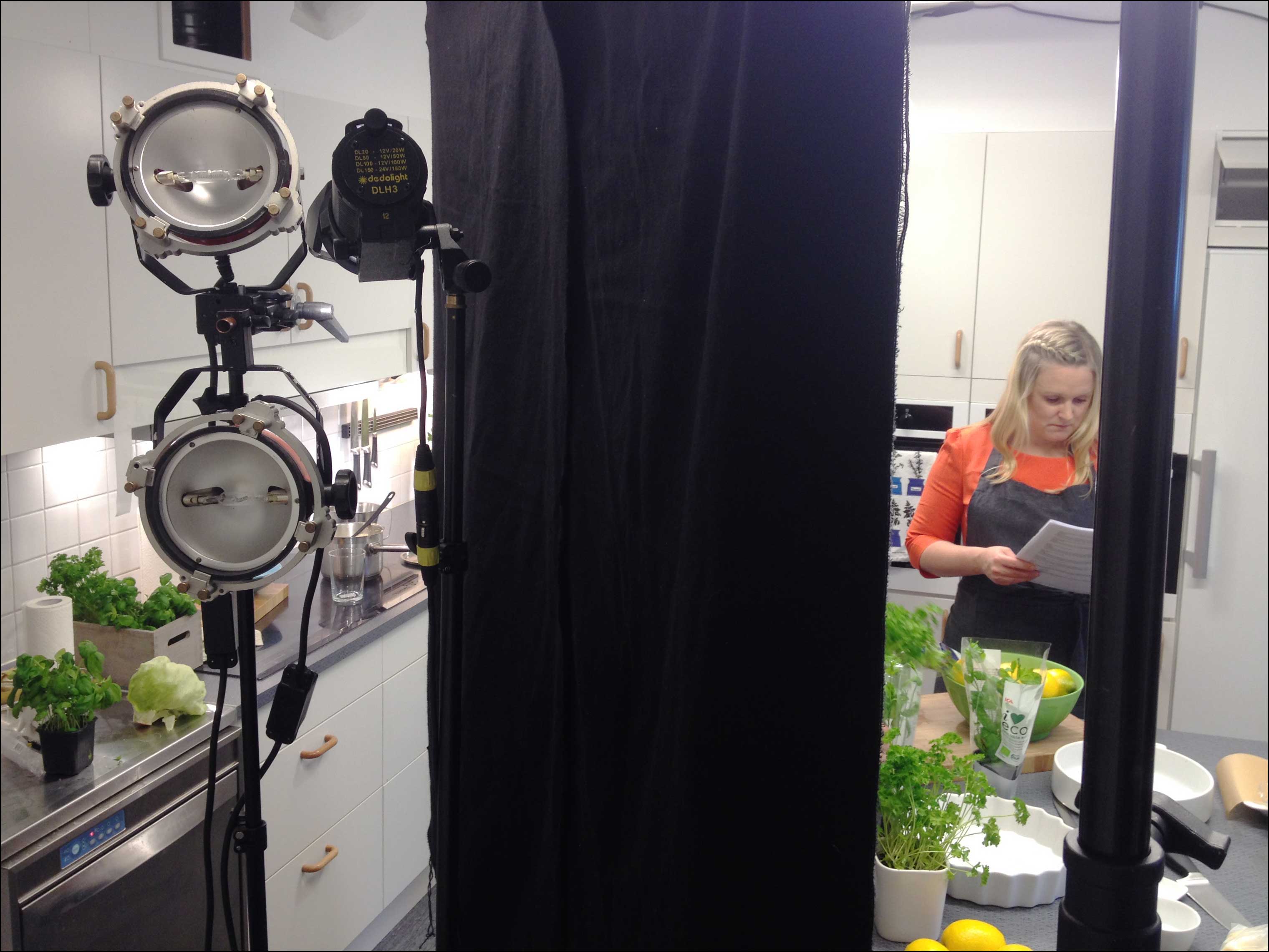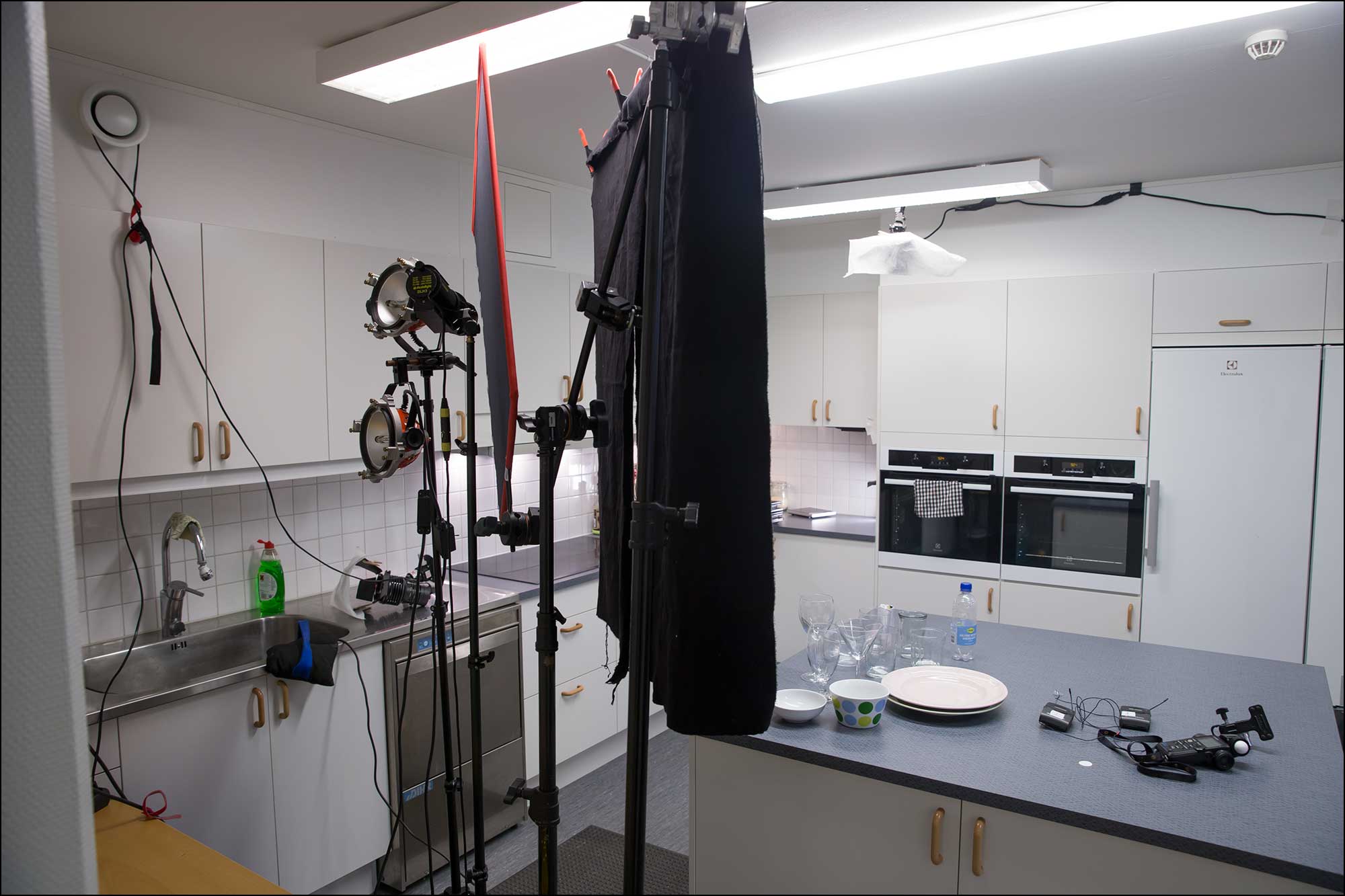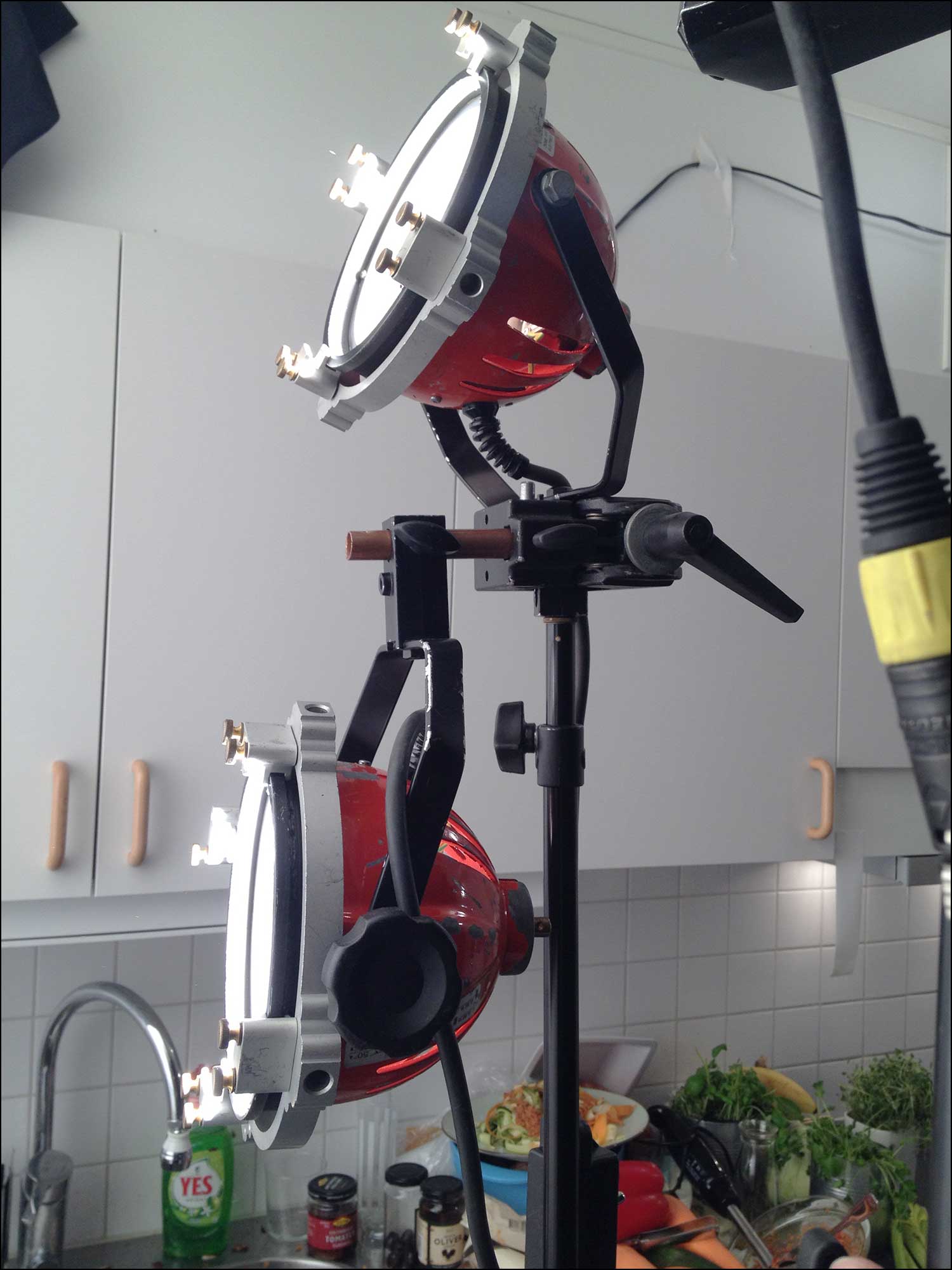 Back lights consisted of a 300 with 216 and a 250w with diff. It can be a good idea when using hot lights to tape some black wrap to the ceiling above the light to reflect some of the heat.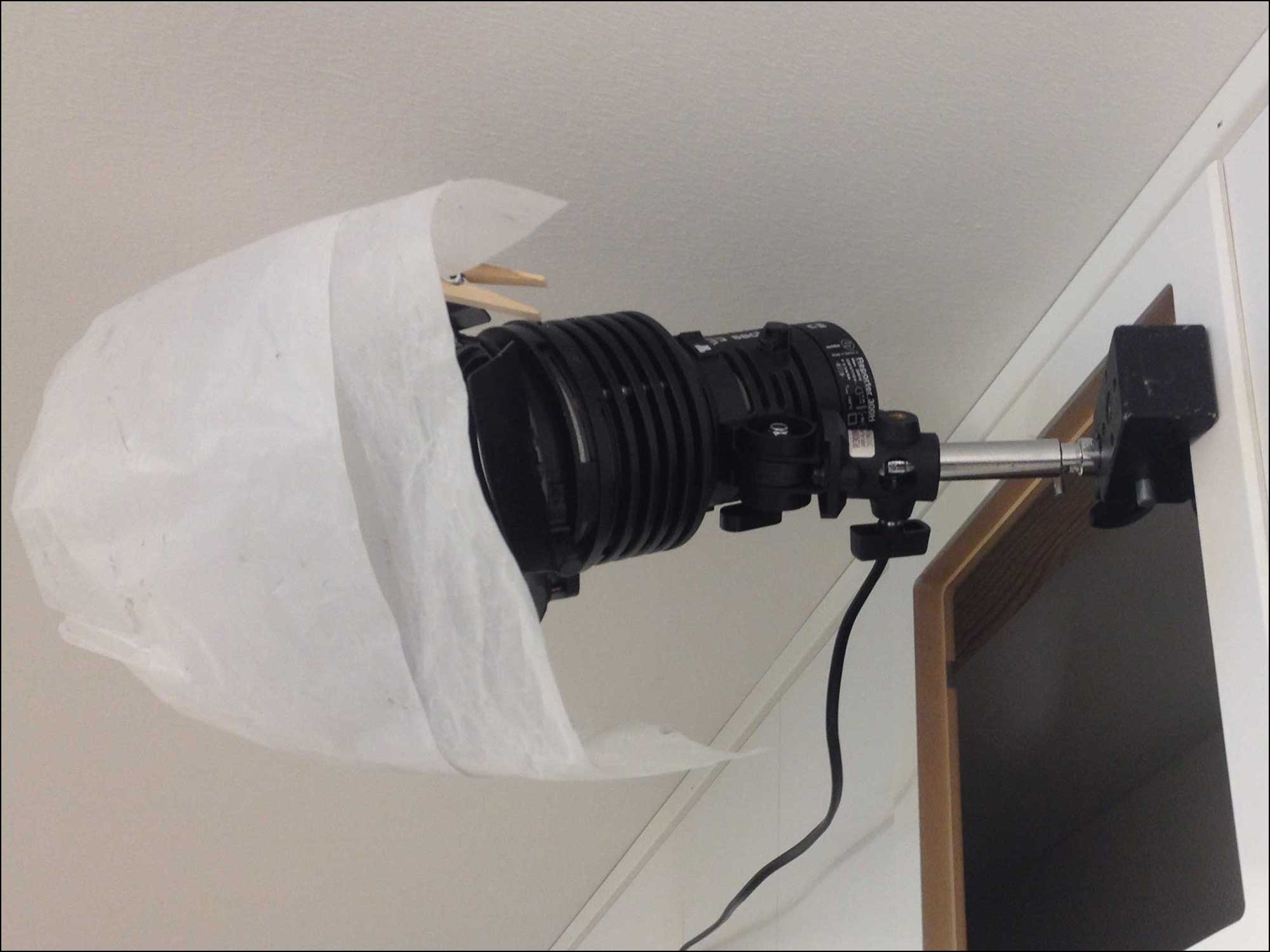 300W back light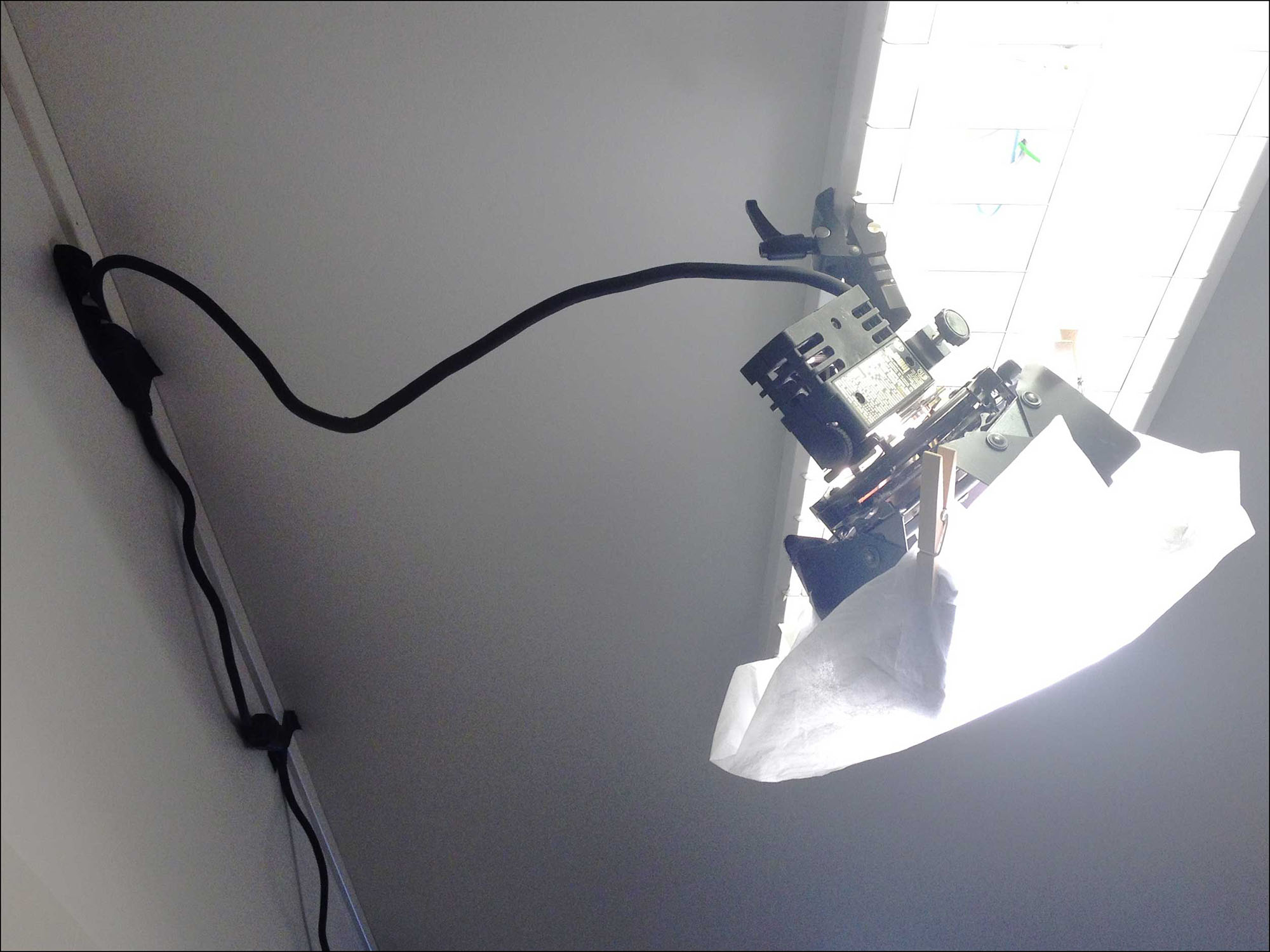 Then I wanted the light in the back to be on and tried to filter out some of the green and other ugly spectrums in there but lack of a full filter kit got me only so far.  It works and I got most of the green out with the filters in my kit.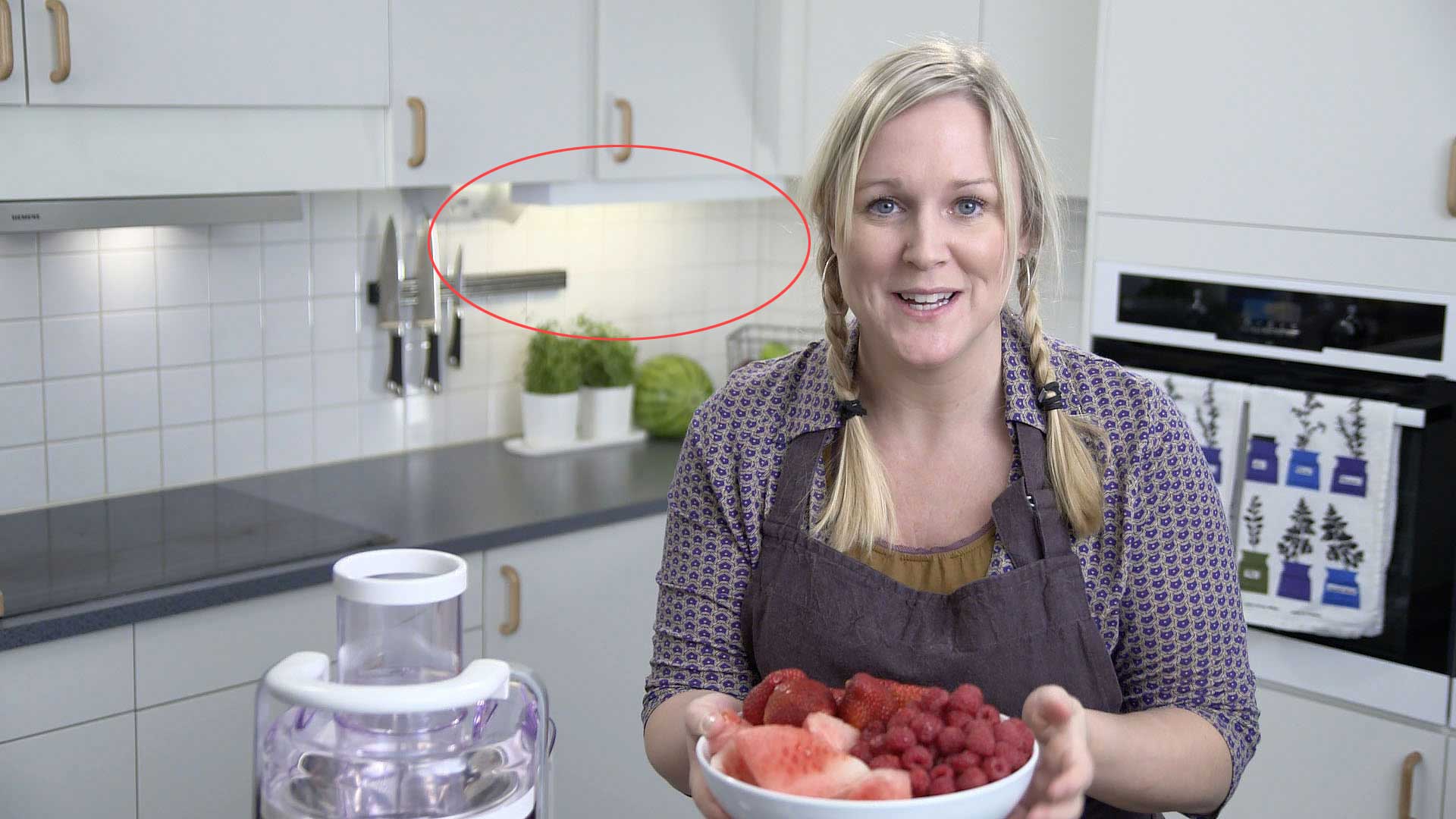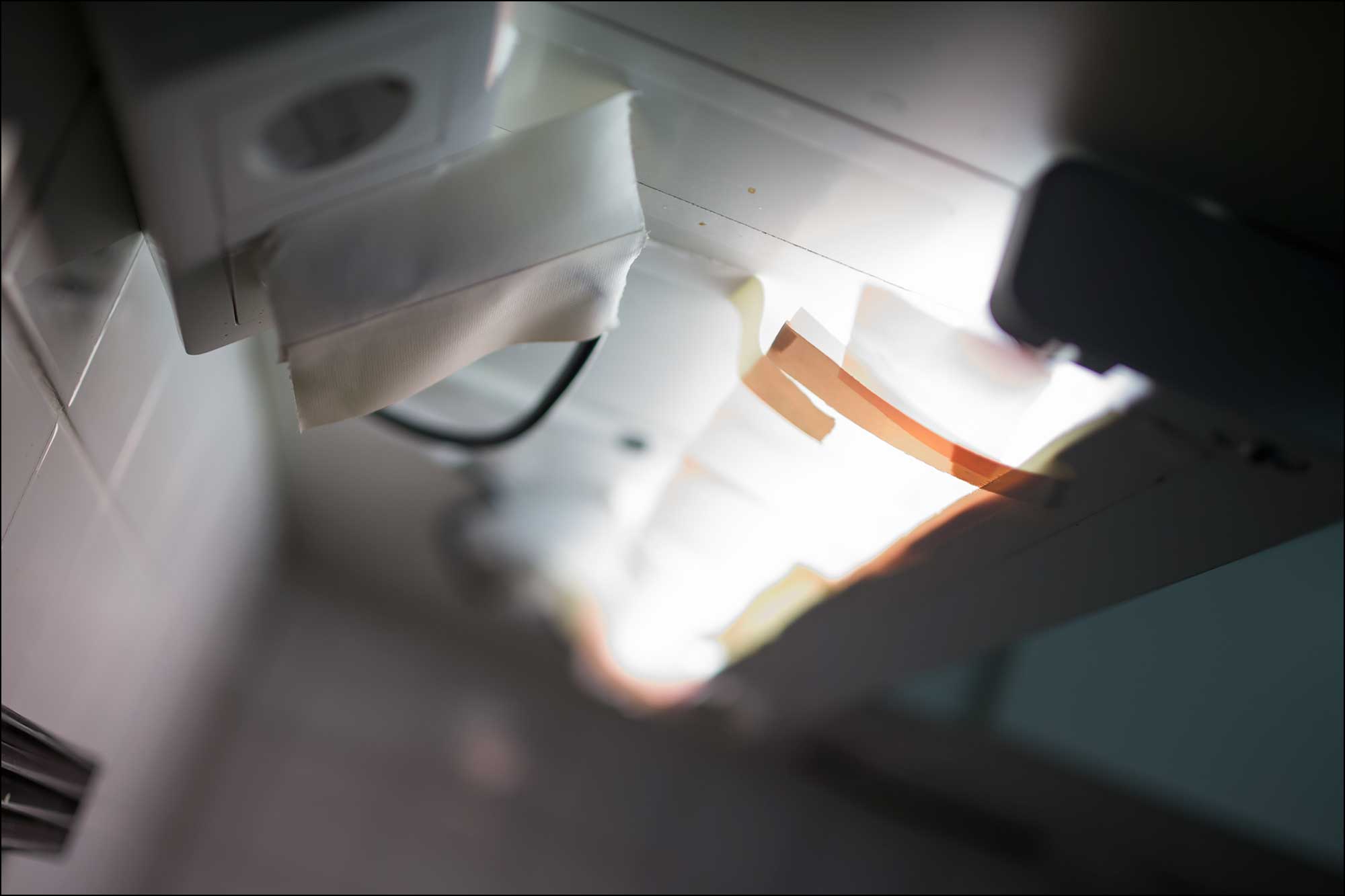 As a last light I put our Arri Locaster in the corner behind the talent.  this added a little fill for background.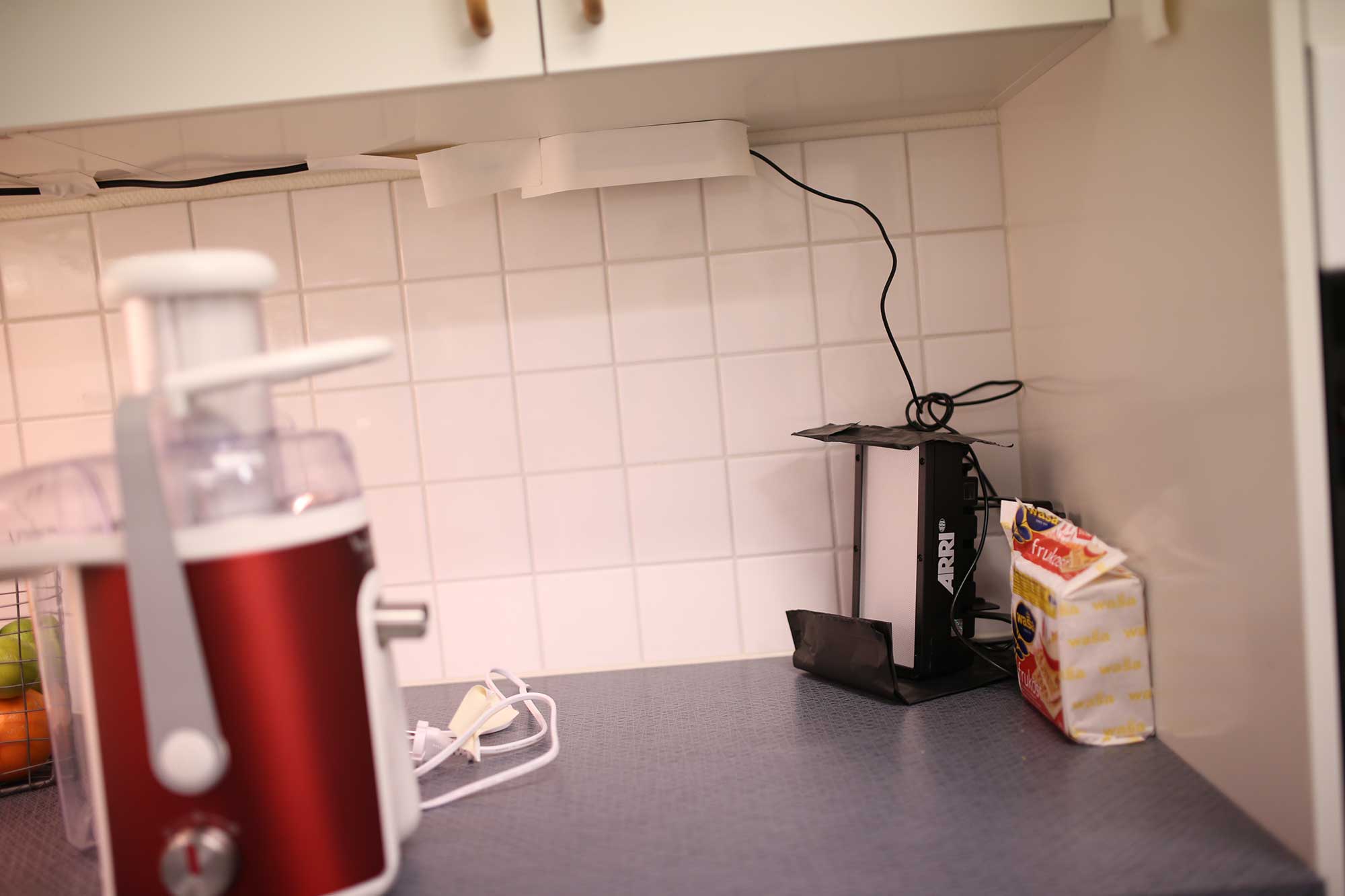 All that tungsten lights in that area you think… Yes it was pretty hot in that small kitchen but there was windows to open up to the fridgid air outside.  Cool lights would also have been an option but the lighting budget was for tungsten.
In retrospect it was a really fun shoot.  Great client and end-client.  Everybody pulling in the same direction and ready to help out wherever needed.  It would have been nice to have one more person in the tech dept., helping out with sound, lights and perhaps focus which was a challenge at times.  We could have opted to have more depth of field but the client likes the wide open look which de focused the background. The F3 is a great camera and looks just as great as it did before the F5/F55 came out and took over the market. 😉
Please not that all images are compressed for web.
End Client:  City Gross
Producer/Production company:  Anagram