Ok so this will be a fairly short post. There must have been some misunderstanding along the way because the ProVFM kit from AbelCine will ONLY work with an NTSC setting in the camera if you intend to use the HDVF-20a. We shoot mainly 25p and a little 50i video. The unit is being shipped back to AbelCine for a full refund.
A couple of quick thoughts though.
1. Such a nice unit, really well engineered, sleek, and easy to attach/install. In less than 2 minutes the unit was attached to the Berkey plate. Screws and Allen Wrench included in the kit.
2. I would have liked to see and HD-SDI input with a loop through to take advantage of the HD signal output through the camera. It now uses the VIDEO out to send a signal to the VF. NTSC only except with HDVFC35W.
3. It would have been a nice accessory cable to be able to tap power from the remote port of the camera (should be possible considering the VF only pulls 4W), thereby freeing up a power tap outlet.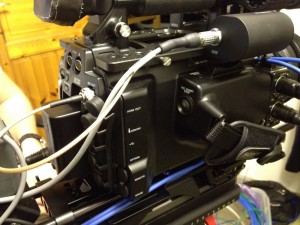 I am so sorry to see this unit go back it is the one accessory that would have made a big difference I think. Hopefully Abel Cine Tech will make a PAL compatible version down the line.
Disclaimer: We payed full price for this unit. Abel Cine Tech have been most helpful in the return process including paying for international shipping costs.