So a few months ago we got our Sony F3.  A small body camera with a big Super 35 CMOS sensor. It has a full 10 bit  422 HDSDI out as well as the option of going fully uncompressed 10 bit 444 with S-log. My tests and shoots so far has really got me excited and I expect great things from this little camera.
The once small body of the Sony PMW-F3 is not so small any longer. Once you start adding on all the additional gear onto it, the weight adds up quickly.
This weekend we flew it on a Steadicam rig and it weighed as much as an Xdcam rig
Right now on ours we have the shoulder rig from Tilta, follow focus and matte box.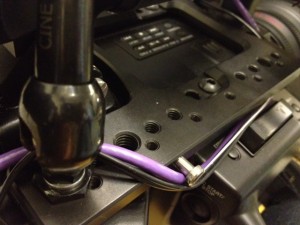 On top we have a cheese plate from Berkey. it is great cause it adds tons of attachment points for different accessories. Berkey System  We bought ours directly from them but Abel in New York is a great option.
On the plate hangs a TV-Logic 5 inch monitor as well as the Pix240 external recorder.  The plate has 2 camera attachment points which makes the plate really fit securely onto the F3.  There is full access to all controls and button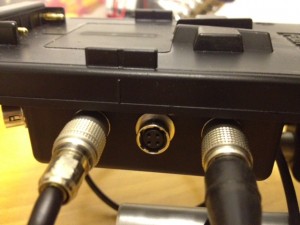 On the back we have a special V-lock plate with 4 hirose power connectors which allows us to power all the gadgets. It also has a PAG powertap.  All ports deliver whatever the battery does in this case between 12V-15,5V.
One more thing we are waiting for is the Pro ViewFinder kit which will allow us to use a proper HD view finder. This will allow us to take i.e the HDVF-20A viewfinder from our XDCam 700 and use it on the F3.  Right now we are only using the 5inch monitor for framing and focus and outdoors this can be a challange, to this option will be really nice.
There will be lots more written on this blog about the F3. We also own 2 XDCam cameras but this camera opens up a whole new client base for us in a very exciting way. So stay tuned for more F3 posts… 🙂