In the series "Top iPhone apps" here is my favorite right now.  "Artemis" which act as a directors viewfinder.   I just got back from a locations scout in the north of Sweden. Later this week we travel up to Kiruna to shoot a commercial for a tire company.  A location scout was really needed to have some clear locations in mind once we all get up there.   So you may ask: why buy an app instead of just using the camera in your iPhone??
What is so great with this app is that you pick a camera and lenses and it will allow you to see what you'll see once you bring the gear on location. What will the 85mm lens look like here?  Will the entire house fit in frame on a 25mm lens from this distance??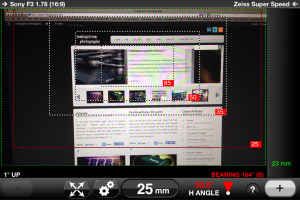 And even cooler is being able to save a snapshot with added metadata (like location name), lens choice and at what angle (tilt) the shot was taken. GPS location is also added to each frame.


The one downside, not the apps fault, is the lens on the iPhone.  Any lens choice in the app wider than "23mm!!" (on a super 35mm dig sensor i.e. Sony F3) will be wider than the Iphone can picture.  The app will then add an orange marker as show what's missing.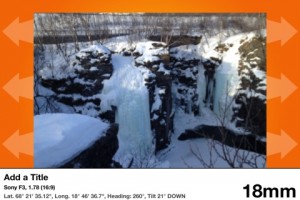 This is a pricy app at 30 USD but definitely worth every penny.   Thanks to Artemis I was able to deliver an email with 19 pictures with lens data to the producer in a far away land, all before leaving for the airport. Really really helpful when talking storyboard over the phone… This app is also available on Android.