This week I spent 2 days trying to get an idea of what Final Cut Pro X has to offer.  The workshop, went through the entire program workflow from import to export.
First a short background… 🙂
I started video editing on tape a long time ago. Everything was linear and planning your edit was essential.  Nowadays you start wherever you want and just move things around. Both good and bad in that regard.  Since I moved to non linear editing in 1997 I have edited Premiere, Avid, Liquid, Final Cut Pro.  In 2008 we switched from Avid to Final Cut studio 6.0 and I was very happy with this, until Final Cut X was released in 2011.  I downloaded FCPX the day it was released and left it in anger 2 days later.   It missed a load of professional features and there was no longer a visual timeline with audio in one place and video in another.  Very frustrating and we decided to move to Adobe Premiere Pro where we are today.  I am very happy with PP and have no real intention of leaving it but I still wanted to explore what the new 10.1 Final Cut X had to offer…..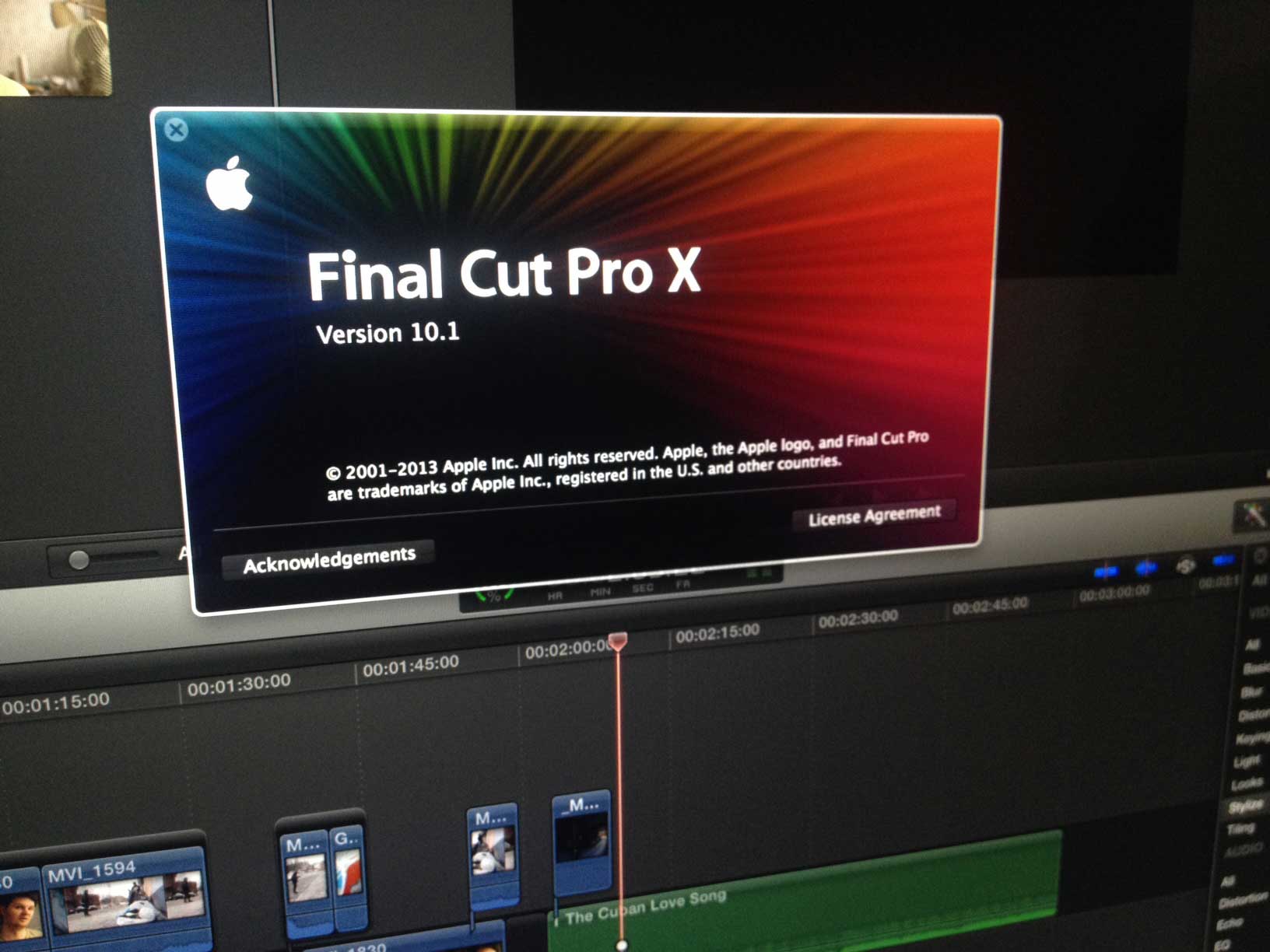 Granted I didn't give it more than a couple of days last time I tried back in 2011.  FCPX is a new way of thinking. Everything is combined, to be easily moved around with our loosing sync.  It takes a little bit of thinking to get used to the idea but moving clips from one place to another is a breeze no sync is lost.
There are loads of effects and presets from color effects, looks and audio filters. Most are user definable enabling you to start with a look and tweak it to your liking. Everything is real time and you can preview an effect without even adding it to your clip simply hover over the effect.  Background rendering is great and you never know its happening. Keywords and media management is also nice but will require you to add all that information to make it useful.  The program seems to accept anything you throw at it (codec wise), and in default wanting to transcode everything into ProRes, which I found was not necessary on my new MacBook Pro Retina.
So why am I not switching to FCX right now.  I am an old dog and I don't like new tricks. 😉   I want to have separate tracks for my audio (I know you can detach audio in FCPX but its not the same) simply to keep things organized and have a  better overview.  I think audio handing is complicated in FCPX as opposed to Premiere Pro or the old Final Cut.   I want to be able to add, with one shortcut key, an audio mix between 2 clips, not jump through hoops detaching audio or expand audio or making a storyline to do what I want with clips.  I am used to having a very organized timeline where everything like interview audio and nat sound to music always goes in the same place or track on the timeline.  That way its very easy to have a clear view of whats going on. With FCPX i feel like I have to search to finds things.  Time and more editing with FCPX would of course change this…
The comparison to iMovie on steroids somewhat applies still I think. Yes it accepts almost every format from Red to H264 in HD or 4K and when you're done you can grade your material and audio mix it elsewhere, but there is still something missing in my opinion. Your milage may vary…
Give it a try and see what You think, after all it a fully functional editing software costing a mere $300.
I may have to eat my words in the future, and perhaps this is where editing is moving to, but for now I like the good ol timeline with separate tracks and easy handling.  If you are new to video editing and don't have all the "presets" in your head of how you want things this may be a great option for you.