Today we got our own copy of the Alphatron EVF. Very excited as we've been waiting for a good viewfinder for our Sony F3.  Other viewfinders I've seen in the last 2 years (in the $1000 range),  have in my opinion had one thing in common: they've bee very hard to judge focus on.  This EVF from Alphtron seems to be a change in that regard. It has a hires diplay, 960×640 and is crisp to look at.  Not to compare to a black n' white pro viewfinder, but its getting closer.  I must say this though. I don't understand why no one makes a proper SDI converter allowing for a ProVF such as the Sony 20A. I do not want, nor do I need a color viewfinder. I have an external monitor for when I need to judge critical color, something I'll never get  anyway from a 4inch display.  But in the meantime this is what's available and this might be the best VF to come out yet, in my opinion.  The panel in this VF is made by TV Logic which in itself should add confidence to potential buyers.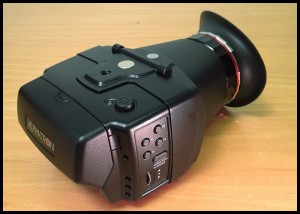 Where do I start.  Mounting is important.  For now we'll use a small magic arm to attach the VF to out Berkey cheese plate. I think it mounts easily and sits pretty sturdy.  If you are one to keep changing the angle of  the VF as you shoot there might be a better mounting option:  The downside to the magic arm it when you tilt the unit up you release the screw and you need to turn the knob to tighten again. Tilting down is not a problem. I am sure there are solutions for this out or ready to come out.  There are 3 screw-in attachment points, 1 underneath, 1 on top and 1 on the right side of the unit. Attachment point are sturdy and in metal.  The power button is located on the top of the unit, please make sure to turn it off when not in use.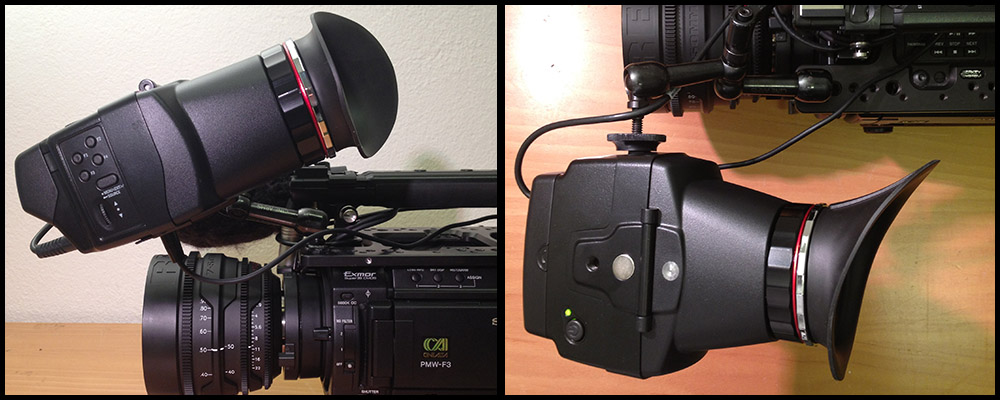 On the front end on the VF is a cover that houses the battery plate.  It will accept L and NP batteries.  This is a great option if you don't have power available from the camera, let's say for HDSLR use. The unit comes with a power cable with a D-tap connector on the end and the mini XLR on the other.  Having the power input angled down is not ideal, and I hope there is an angled power connector out there.
Underneath the battery plate is the I/O of the unit. To the left 2 BNC connectors SD/HDSDI in/out with loop through.  On the right is the HMDI in and out (loop through also). There is a meny option to convert HMDI in to SDI which could prove to be a really cool feature if you come from a HDMI source and want to shoot to a monitor a distance away.  Saves a AJA/BMD converter box. Nice!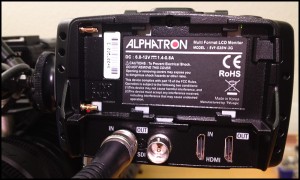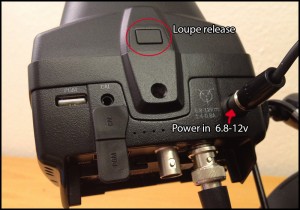 The Alphatron EVF has 7 meny pages all accessable from the left side of the unit.  Also on that side are the 4 "f-buttons" for easy access operation of your favorite meny functions.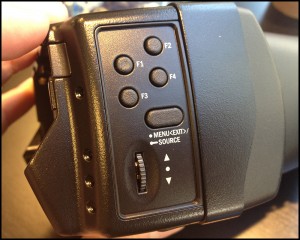 The meny tree looks like this:
Picture: Setting for Brightneess, contrast, Aperture (sharpness), Scan mode (over, 0, user), Apect ratio, 3 G format, DSLR settings, and Rotary lock.
Color:  Here you can choose between presets of 3200K, 5600K, 6500K, 9300K as well as 3 user settings allowing you to customize your colors.
Marker: Setting for all frame markers, 16:9, 4:3, 4:3 on air, 15:9, 14:9, 13:9, 1.85, 2.35, 1.85 &4:3 as well as USER setting. Choice of marker color, and width. Safety area and center marker.
Error Check: False color, Setting for Zebra (1 zebra) with Y zone adjust from 0-100% as well as range error.
Audio: Level meter (16 channels, Lv meter display (pair or group), Lev Met Ref (18dB or 20dB), Lev Met size, peak decay time.
Display & Set: System default, Back light, Int pattern (color+pluge and gray 5-100%), Time code (LTC, VITC, OFF),
System: RS-232 port (Upgrade or Calibration) and HMDI to SDI (on-off)
In the eye piece there is a leaf-shutter that lets you shut out the sun from getting in while your eye is not up against.  I don't know if this panel is especially sensitive to sun but it is a smart feature.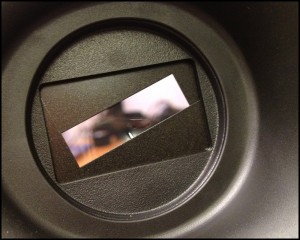 Good vs Bad
Good:
*  Timecode.  The Alphatron reads the timecode from the HDSDI stream and displays it in the viewfinder.  Very useful and this will tell you in your are rolling or not (taken that you are in REC-RUN TC mode)
*  You can set the VF in a Black n' white mode and have a red (green or blue) focus assist line light up around all things in focus. Smart and easy to see without distracting colors. I think this is the way I'll use this viewfinder most of the time as the color accuracy in the display is what it is.
*  The 4 easily accessible  "f-buttons" that you can customize to fit your needs. Very handy
*  User defined markers to let you set up your own marker in the VF.
*  Flip up feature to use the small screen without loupe.
*  False color feature is something I like alot on the 5inch TvLogic and is a nice feature on here.
*  Pixel-to-pixel.  Nice feature and standard now in most VF's I guess.
Negative stuff:
*  I wish there was a histogram or  small WFM in the view finder.  Yes there are other options to set exposure but a small histogram is the VF would have been nice. Why choose not to include that, I know its available in other VFs??  Firmware upgrade???
*  Auto shut off.  Not that the viewfinder will chew up you battery over lunch but it would have been nice to have an auto-shut-off feature after for example 3 minutes of no sdi signal.  Firmware upgrade???
*  Why have 16 channels of audio monitoring in the VF. Isn't 4 enough just to see that audio is actually being recorded. There is nothing moving on non-used channels but I want my VF as clean as possible…:)  Firmware upgrade??
*  The zebra pattern sets off the focus assist feature.  If for example you'd set your zebra at lets say 65% pretty much the whole frame would shown "as in focus" if you're outdoors. If you use the zebra feature constantly it get annoying to see the zebra pattern "light up".
*  Don't know if I'd really call it negative but it is a little big big and bulky. I understand why it needs to be, but at the same time wish it was a little bit smaller. (we're never happy are we… 😉  )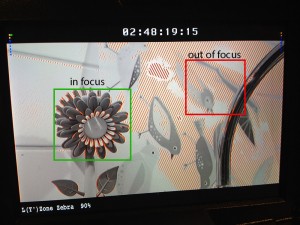 To sum it up I think this is a great viewfinder for the money.  It is sharp and with the focus assist feature I see it as a really useful tool.  I wish there was the histogram but zebra will work especially if you're used to ENG style cameras. Finding a good way to mount it onto the camera will be important if you need to change the position of the VF often.  I'll be glad to get rid of the 5inch with blackwrap as our viewfinder… 🙂
Disclaimer:  No one asked me to write this post, I don't have any ties… etc  etc. We payed retail price for the EVF