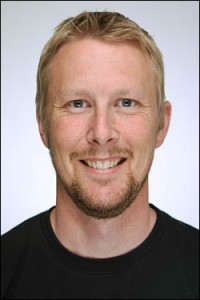 My name is Marcus Skogstrom and I work as a Director of Photography.
After 20 years of working with the moving image I still enjoy the challange of getting "the shot" and seeing the light; whether it's for a tv show, drama, music video, magazine show or a short film.  I  have a deep understanding of the technical aspects of modern digital cinematography.
One of my main strengths is finding the best possibilities for a chosen location, lighting it in a given time frame and producing images meeting, and hopefully exceeding the producers vision. The small touch Can make a big difference.
I am based in Malmö, Sweden, only 25 min from Copenhagen International Airport, in Denmark, which makes it easy to work wherever the project takes me.  I've also been happy to call the United States my home for almost 9 years, living in California, Florida and New York.
I am also the owner and founder of Pixeltouch Media, a full service production company delivering content to tv networks, companies and other production companies.  We can deliver the whole chain including pre-production, production and post.
Cinematic video is my game. We own the Sony FS7 camera along with an XDCam HD(PDW-700) as well and a Canon 1Dc and a Sony A7s.  Other cameras like Alexa pr RED are only a phonecall away.    Cine Lenses, HD optics, lights, audio and editing, all under one roof.   External DNxHD and ProRez recording onto SSD.    Rentals for other formats and lights is close by  to suit whatever needs the project may have.
I am also a member of the SONY ICE (Independent Certified Expert) team. I am very happy and honored they think me worthy of this task.
For rates and booking please contact me. I look forward to hearing from you!