Today Convergent Design announced a new 7.7″ OLED monitor.  It has some really great features, other than the 1200×800 OLED display. It is also a recorder if you'd like.  So when you are ready to move into external recording you simply purchase an upgrade or even "rent" the recording options you need for that day and pay on a day to day basis. ArriRaw, Canon RAW, Avid DNxHD up to 1080p30/1080i60, HD/2K Uncompreseed RGB 444 up to 60fps, 4K support.   Brilliant concept if you ask me.  Buy the monitor at a great price (only $1295!!) and add the features you need, When you need them.  UPDATE , NOTE:  The Odyssey Q with more options etc is listed at $2300.   SEE:   http://www.convergent-design.com/Products/Odyssey7.aspx#7-vs-7Q-Comparison-24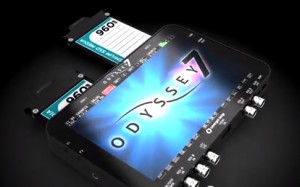 Of course it has all the Focus Assist, YRGB Waveform, Histogram, False Color, Vectorscope, Zebras options as well.  Check out Convergent Designs site for all the details.
Disclaimer: No affiliation what so ever to CD.