At the trade show in Gothenburg the other day I saw a really nice follow focus rig/follow iris from Hedén Engineering. Hedén motors are known for the quality and reliability and now they are extending their line up with a complete package including a single channel control unit and receiver.
The control unit has back lit scale rings, smooth turns with adjustable drag and no external antenna.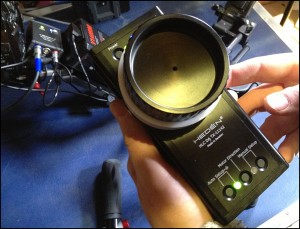 This is a bluetooth device but with the newest Bluetooth 4 standard. It has a 100m (300ft) range. The receiver unit is about the size of a pack of cigarettes. The setup was a snap and it took all of a few seconds for the units to pair up. There is one-touch scaling button to easily set up to any lens. One of the nice things with this for example, is being able to scale the very short throw of a stills/DSLR lens over the whole turn of the controller dial. This will allow you a much greater control of the lens, despite the short throw of the lens.
You can also very quickly setup 2 points, a start point and and end point, for an easy rack focus.
What really got me was the enormous precision of motor in relation to the follow focus dial. It was really really accurate and the tiniest move transferred over the bluetooth into the motor and onto the lens. According to Heden there are 204800 "points" on each turn of the motor. Therefor the precision is a few hundreds of a millimeter per "step". So in short, very accurate.
I can see this unit as a great solution for folks using stills lenses on their cameras. Scale the controller to the stills lens and get a much greater throw on the lens.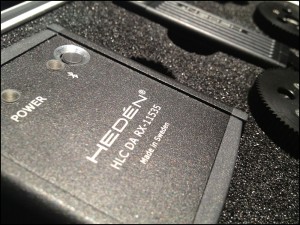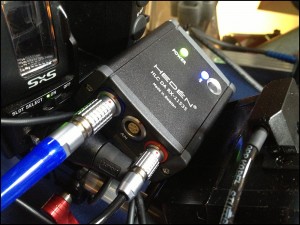 You can also skip the receiver and connect the controller via cable directly to the motor. The handcontrol runs on a Canon 5d battery and last 3-4 hrs. It is, as all things worth having, a bit pricy at roughly $6 200 but quality costs… Would love to get ahold of a unit and do some real world testing.