We've been asked to quote a mobile studio setup for a client of ours.  Final delivery will be in SD and delivered via Fiber or Satellite.  It's a 2 cameras setup and there is the desire to switch these 2 on location.  There is not the budget and/or in some cases space to bring in a triax setup/mini OB-van.  We needed a small portable/ flight pack solution.  Before I start I'll say this.  There are sooooo many options and ways to do this, this is just one and perhaps not even the best.  It is the first initial test.  To each his own… 🙂
I immediately thought on the ATEM Television studio from Black Magic Design. All 10 bit digital video  It is a hardware switcher capable of being controlled by  a laptop with User Interface (UI) software. It doesn't look like much but has a lot of horse power  built into this 1 rack unit wide chassis.


The ATEM has 4 HDMI camera inputs as well as 4 HDSDI/SDSDI inputs. There is a USB2 output delivering a H264 PGM stream ready for delivery.  It has multi view output via both HMDI and SDI as well as 2 SDI PGM outputs. There is also an HDMI PGM output.  REF in and AES in is also available.  The RJ45 connector allows for switcher control over a network.  It also has downstream and upstream keyers and great options for expansion as your needs may call for it.


Our setup would look like this.  2 cameras, 1 host and 2 guests, 3 wireless audio, 1 IFB to the host, delivery  of Program (PGM) feed via SDI.  All the audio would go through an analog mixer and would have to be embedded as the final SDI feed would need to have PGM audio on channel 1 and 2.  As this was a first inital test we settled for 2 channels audio and left out the IFB.  We'd use 2 Sony PDW-700 XDCam cameras, easy enough to paint/match with results close enough for that particular situation.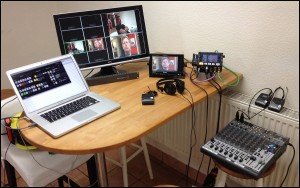 As you can see we opted to use a 24 inch LCD display for our multi viewer.  Something we could pick up at any local electronics store and then leave when the job was done.  Also we have a 7 inch TV-Logic monitor as a final PGM view.  To the right of that we have our Sound Devices PIX240 which serves as our embedder in this case.  You could of course use a dedicated embedder but we own the PIX240 and it also features this nice display for checking settings, audio meter and video inputs which is very handy.  I like to have a visual check of the status.  Also there is the option of recording the PGM directly on the PIX
So both cameras run via SDI into the ATEM and are switched through the software UI.  The ATEM  PGM output SDI is fed into the PIX240.  The Audio from the mixer is also fed into the PIX240 via analog XLR and after an audio delay is set the SDI out of the Pix will be our finished delivery PGM.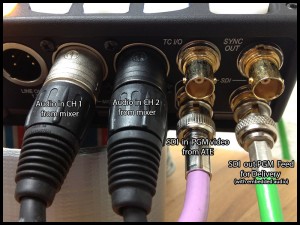 First I must say this.  It was a very easy setup.  Download and install BMD software and as soon as the ATEM is connected to the network the UI starts up.  It immediately recognizse the cameras and since we only have 2 cameras to worry about, switching is done through the space bar.  Very very easy.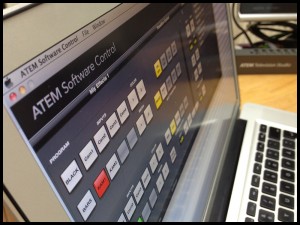 A couple of thoughts. In SD the Pix240 doesn't add a 16:9 flag and the footage leaves the SDI as 16:9 anamorphic.  This won't be a problem doing HD and is not really a problem in SD either other than seeing a Squeezed 4:3 image in the PIX.  On the PGM monitor it reads it correctly as 16:9.  I also tested in HD and no problems.

I also would have liked to remove and customize the mixer button panel a bit more but all the options were greyed out for some reason. I am not sure if this was user error or something else, I'll check on this.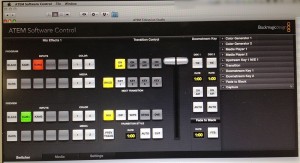 In the software package there was a SDK package but since I don't do code I hope there is an easier way to customize a few different Multi view screen setups for different purposes.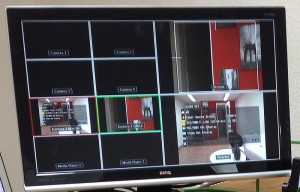 At $1000 this is a lot of bang for your buck.  I'd consider this simply for the realtime H264 encoder, but I see this as a great option for a small 2-4 camera studio (churches, schools etc).  The downside is matching cameras, although using high end ENG cameras this is less of a problem considering the matrix/paint options available.  The ATEM unit is so small that building it into a travel case with a monitor for example would be an easy job.  More testing will show if this is the right way to go but it looks promising.    For more info and complete specs visit: Blackmagic Design.
Disclamer: No connection to BlackMagic Design other that a previous customer.  We did Not test the H264 output, nor did we test all the Key (both upstream and downstream) functions.