I realize there are tons of options on wireless audio, big, small, expensive, less expensive. On a small camera one might choose to have a small light weight system to minimize form factor and weight. Not to long ago we bought the Sony Digital wireless system (DWR-S01D) and today we got an external case, DWA-F01D for it. Most of the time this 2-channel receiver is housed in the slot of our PDW-700 but we also want to be able to put it in a mixer bag or on the back of our PMW-F3.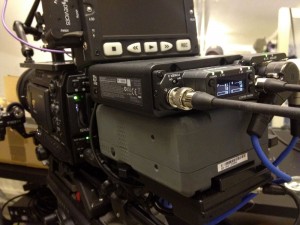 The adapter/case has 2 XLR connectors for 2 channels analog audio. It can be powered by a Sony L series battery which is a great option in a sound audio bag. It also has a 4 pin Hirose connector and a consumer DC in power plug making it really versatile in power options. A BNC connector for AES-3 digital audio output as well as word clock for sync also in BNC is included on the side.
I stuck it on the back of the F3 and here are my first thoughts.
First thing: it is pretty big/wide. Sony makes a slimmer case, without the option of powering by battery, which might actually be a better solution for attaching it to a camera. But since we intend to use it in a mixer bag as well we chose the bigger case. Considering all the other stuff we have stuck on there it doesn't feel all wrong. It is sitting on top on the battery just underneath the PIX240 and it is just as wide as that.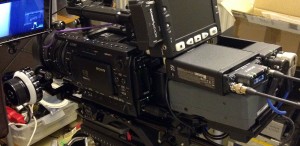 We power the unit through a 4 pin Hirose connector attached to our battery plate. Works great. In the picture below you can also see the AES/EBU output and Sync input. There is also a headphone out with a volume control.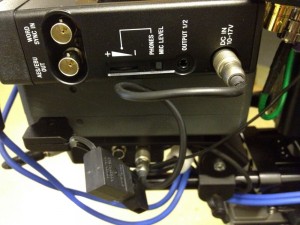 ;
On thing that was s little annoying was that the audio inputs (XLR connectors) were so close together I had to really work to fit 2 right angled XLR's next to each other. I had to angle one to the side. I understand to fix this would have made the unit even wider but it was still annoying… 🙂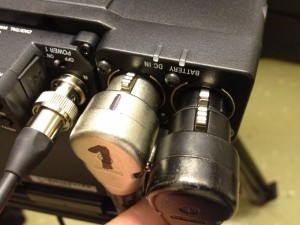 This is something we'll use when flying the F3 on a steadicam or moving about without being tethered.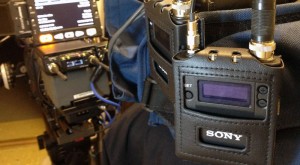 So to summarize: if the receiver was going to be on the F3 all the time, I would get the slimmer adapter DWA-01D, but if you want a versatile case for stand alone use or in a mixer bag plus more power options this is the one to get. So great to get this system up and running on the F3 as well.
;
Disclosure: No one asked my/payed me to write this post. All opinions are my own. We payed full list price for this unit.