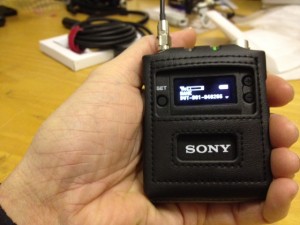 Today we got our new sound gear delivered from Scandinavian Photo in Malmö. We've bought the Sony Digital wireless system with a DWR-S01 receiver and 2 DWT-B01 transmitters which offers great features and allows us to use 2 channels of wireless audio in the slot of the XDCam PDW-700.
Other than being an all digital system with 24-bit/48-kHz digital audio it has some really great option such as being able to control power/sleep, attenuation, lo-cut and RF out directly from the receiver. The system boost a dynamic range of 106 dB, a frequency response of 20 Hz to 22 kHz, and an excellent system latency of 3.6 ms. You can even encrypt the audio if you wish.
So a pretty cool system. We expect great things from this system and I'll post back in a few months to update on what I think.
We already have 2 diversity systems from Sony (WRR-860) and if these new ones are half as good as the old ones, we are in for a treat. 🙂
My view on wireless systems (as well as most gear) is that you get what you pay for. We own another 4 less expensive systems and there is absolutely no comparison.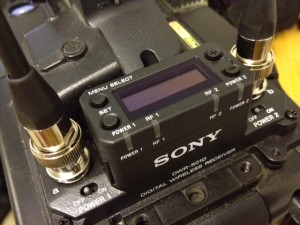 p.s. This is the only system which will allow for 2 channels in the slot of the XDCam 700/800. Sony has shut all other manufactures out of the second channel in the slot…  d.s.